Bisaya writers' organization celebrates 49th anniversary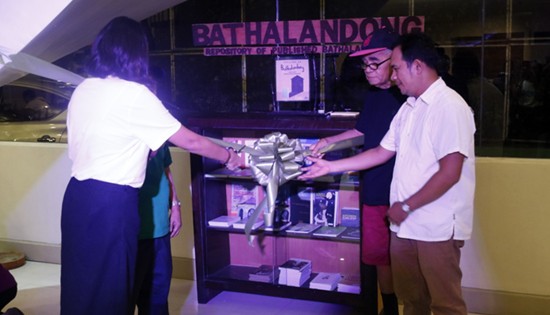 Press Release
August 22, 2018
CEBU CITY – Bisaya writers' organization celebrates 49th anniversary Bathalan-ong Halad sa Dagang (BATHALAD) celebrated their 49th anniversary through the launching of "BATHALANDONG", a repository of published works at Palm Grass the Cebu Heritage Hotel on August 18.
The collection of 18 books by acclaimed bisaya writers such as Adonis Durado, Josua Cabrera, Myke Obenieta and more old and young members of BATHALAD will be available both for free reading and for sale at the hotel's library restaurant Kapihan ni Lumaya.
The festivities were started with poetry readings from well-known bisaya poets Lamberto Ceballos (Sun Star), Rolando Morallo (Sun Star,), and current BATHALAD vice-president Jae Mari Magdadaro (Bisaya Magasin). Former BATHALAD president and one of its oldest members Ernesto Lariosa first reminisced on how the organization changed throughout generations before performing an awe-inspiring bisaya poem. His son, a spectacular poet like Ernesto, also performed in the open mic portion.
Formed in 1969 by brilliant bisaya poet Dr. Melquiadito M. Allego, Jr., BATHALAD is now home to both old and young writers from the region. President Karla Quimsing said that BATHALAD's doors are open to new members of all ages, gender, sexuality, and even those outside of Cebu but all across the bisaya-speaking regions.
As Cebu's only heritage hotel, Palm Grass supports the growth of our local literary talents like BATHALAD. Apart from literary works, books on Cebuano history and culture are also available for sale and free reading at the Kapihan ni Lumaya library restaurant.
Guests may also enjoy native drinks at the Kapihan like the Kape Mais and native teas like dulaw (turmeric) and tanglad (lemon grass).
Palm Grass aims to engage all Cebuanos, especially the youth, to learn and explore about Cebu's colorful and valiant heritage.