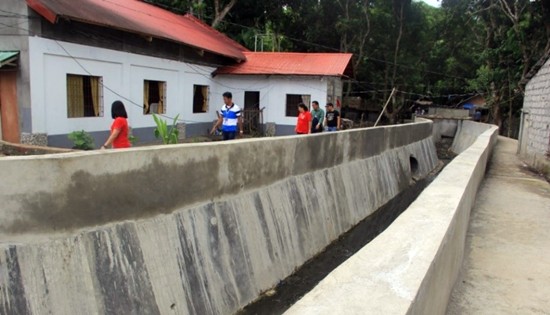 The Inspectorate Team of DPWH Samar I conducts a final inspection of the flood control structures along Bantian creek, Brgy. Bantian, Calbayog City.
P10-M flood control along Bantian Creek completed
By JASON DELOS ANGELES
August 17, 2018
CALBAYOG CITY – As part of the Build Build Build Program of the present administration, the Department of Public Works and Highways Samar First District Engineering Office (SFDEO) completes the rehabilitation and improvement of the flood control project along Bantian Creek, Brgy. Bantian, Calbayog City.
The project covers the construction of 96 meters of flood mitigating structures in addition to the already existing flood control project along the creek. It is under contract with JFR Construction with an appreciation of P10 million sourced out from the 2018 General Appropriations Act (GAA) Fund.
The flooding in Brgy. Bantian brought about by the monsoon rain affects so much of their residents' properties. During the last flood, their barangay hall got flooded and even elevated houses were not spared.
The existing flood control project can no longer accommodate the volume of water overflow caused by heavy rainfall, especially during typhoon season. It also worsened during high tides because the creek is connected to Samar Sea.
The rehabilitation and improvement of this flood control project has a widened catchment that can now accommodate an even higher volume of water capacity.
With this, flooding is not only mitigated but prevented.