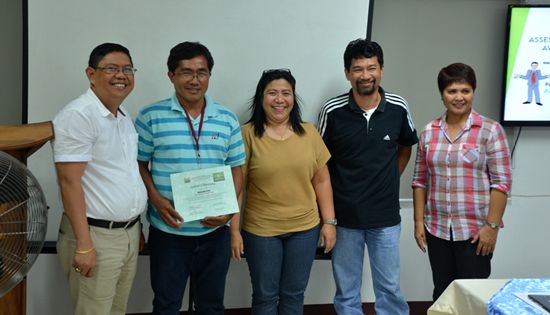 Official of the MAALSADA FISCO (second from L) pose with (from L) Eulalio Lagapa Jr., LBP-Lending Center Head; Maria Ugay, LBP Account Officer; Roberto Cajipe, Development Facilitator; and Lilibeth Imperial, DAR-Leyte APCP Coordinator, after having been commended for their outstanding performance as program conduit under the Agrarian Production Credit Program (APCP).
DAR, LBP commend 7 Leyte farmers organizations
By JOSE ALSMITH L. SORIA
May 3, 2017
TACLOBAN CITY – Seven agrarian reform beneficiary organizations (ARBOs) in Leyte province were recently commended by the Department of Agrarian Reform (DAR) and the Land Bank of the Philippines (LBP) for their outstanding performance as program conduits.
LBP-Lending Center Account Officer Maria Ugay disclosed that the seven ARBOs who availed of loans under the Agrarian Production Credit Program (APCP) for their members in 2016 were able to settle their respective accounts before the due dates despite the member-farmer's encountering losses in last year's farm operations.
Recognized during the recent quarterly assessment and consultation were the Pastrana ARC Farmers Organization (Pastrana, Leyte); MAALSADA FISCO (Alangalang, Leyte); BAKDAW FISCO (Tabontabon, Leyte); Merida Agricultural Diversified Services Multi-Purpose Cooperative (Merida, Leyte); Liberty Farmers Savings and Credit Cooperative (Palompon, Leyte); Himamara Agrarian Farmers Association (Mahaplag, Leyte) and the Tugas Farmers Agrarian Reform Association (Bato, Leyte).
According to Zosimo Estabillo, chairman of the Pastrana ARC Farmers Organization, they used the association's fund first in paying their obligation to the bank as they collect additional 4.5 percent from members who availed of the said loan.
Provincial Agrarian Reform Program Officer-1 Paulina Canales explained that the quarterly assessment and consultation is a venue for the ARBOs to air their problems encountered especially on reasons why the member creditor couldn't pay his or her obligation.
During this occasion, Canales added, a representative from the LBP-Lending Center offers solutions to the affected ARBOs to avoid being penalized.
Likewise, a representative from the Philippine Crop Insurance Company (PCIC) is invited to explain to the ARBOs how the farmers could avail of crop insurance to protect them from severe losses in times of calamities or pest infestations.
Further, Meneleo Medino, PCIC representative, encouraged the farmers to apply for crop insurance for only P50 a year.
Common problem encountered by the farmers during the last cropping season was the intense dry spell caused by the El Niño phenomenon.
Meanwhile, Eulalio Lagapa Jr., LBP-Lending Center Head, encouraged the ARBOs to maintain a good standing so they could qualify for the said bank's regular credit programs when APCP ends.
DAR Regional Director Sheila Enciso stressed that APCP is one of the agency's support programs in partnership with LBP and the Department of Agriculture extended to ARBOs by offering agricultural production loans at 7.5 percent interest rate per annum.
Estabillo described the interest rate as much lower compared to that of traders who offer credit assistance to farmers at the start of the cropping season.
In 2016, Ugay said, LBP released P26.57 million to 35 ARBOs in Leyte and Biliran provinces serving as conduits to 1,233 members who applied for APCP loan.