8ID administers blessing and hand over of KIA KM450 truck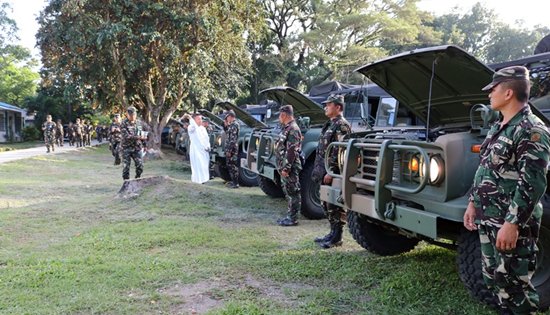 By DPAO, 8ID PA
March 6, 2017
CAMP LUKBAN, Catbalogan City – The 8th Infantry (Stormtroopers) Division administered the blessing of 51 units of brand new 1 1/4 ton KIA KM450 truck held at 8ID Basketball Court and Samar Police Provincial Office ground last March 3, 2017.
This multipurpose all-terrain military truck was first introduced in 1998 as part of the AFP Modernization Program. It is powered by a 3.9 liter diesel engine and can run a maximum road speed of above 100 kilometers per hour.
Out of the 51 units of KM450 received by this Command, 17 of which were issued in advance to line units in Mindanao to boost and strengthen their mobility assets in support to the intensive military operation against the terrorist groups.
Capt. John O. Geronimo, the Division Chaplain blessed the newly issued vehicles to keep the driver and the troop's safe at all times while rendering their duties. The ceremony was led by Col. Clifford Cyril Y. Riveral, the Assistant Division Commander for Retiree and Reservist Affairs together with other officers and enlisted personnel of the division.
In his message, Col. Riveral urged the respective military truck drivers to take good care of the vehicles for the higher headquarters provided these to enhance the Command mobility assets in support to the tactical operations both in the region and in Mindanao. "May the Almighty God bless you along your journey in securing and serving our nation," Riveral added.