14IB conducts info drive to 200 youths of Maydolong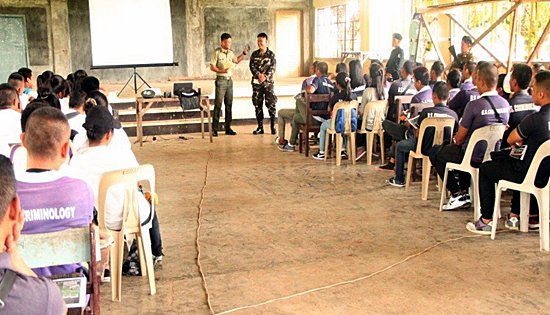 By DPAO, 8ID PA
March 1, 2017
ORAS, Eastern Samar – Your Army in Eastern Visayas thru personnel of 14th Infantry (Avenger) Battalion, Philippine Army facilitated an Information Awareness Drive to two hundred (200) youths from the Eastern Samar State University Maydolong Campus, Maydolong, Eastern Samar last February 23, 2017.
The topic discussed was the Career Guidance on how to apply to become an officer and soldier in the Philippine Army.
This Information Awareness Drive was initiated by the 14th IB to encourage more applicants to join the profession of arms to supplement the needs of the Armed Forces of the Philippines.
2Lt. Dennis S Carig, CMO Officer of 14th IB, emphasized that, "being a soldier is a noble profession, that each individual dedicates their lives for his/her love of the country." Leaflets about the Army recruitment were also distributed to the youths for their reference.
Commanding Officer Lt. Col. Manuel Leo Gador reaffirms the commitment of 14th IB in reaching out to the academe and youth sector in order to bring inspiration on their role on nation-building. "We hope that our partners from the academe followed suit and also be our active partners in molding the youth as agents of peace and development of our country," Gador said.