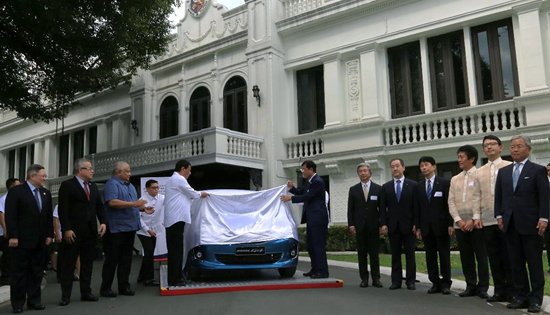 In photo: President Rodrigo Duterte (center L), DTI Secretary Ramon Lopez (2nd from L), Executive Secretary Medialdea (3rd from L), Department of Finance Secretary Carlos Domiguez (leftmost), Mistubishi Motors Corporation President Osamu Masuko (center right).
Additional 1,000 in jobs rolls-off in auto manufacturing industry
By DTI-OSEC-PRU
February 28, 2017
MANILA – Following the Presidential visit of President Rodrigo Roa Duterte and the signing of the Memorandum of Understanding between Mistubishi Motors Corporation (MMC) President Osamu Masuko and Department of Trade and Industry (DTI) Secretary Ramon Lopez last October in Tokyo, Japan, President Duterte, Secretary Lopez together with Executive Secretary Salvador Medialdea and Finance Secretary Carlos Dominguez, led the launching ceremony of the Philippine manufactured Mirage G4 under the Comprehensive Automotive Resurgence Strategy (CARS), February 27, in Malacañang.
The production of the Mirage G4 in the Philippines is in line with the initiative of the government to revive and develop the auto manufacturing industry in the country, making it as a regional manufacturing hub for auto parts.
"The CARS Program will bring in more investments, better paying and high productivity jobs that will lead to spill-over effects by stimulating economic activities in related manufacturing and services. It will create employment and require local sourcing of auto parts up to 70 percent local content, that will develop more SMEs and generate more jobs," said Secretary Lopez.
Over 200,000 units are to be produced under the program for 6 years which will require additional manpower of 1,000 workers including direct and indirect sales and general administration employees from Mitsubishi and Auto parts suppliers. The program will furthermore serve as an opportunity for technology transfer to local micro, small and medium enterprises (MSMEs) through joint ventures and technical licensing agreements.
"This is important to enable us to maximize the trade and investment opportunities arising from the ASEAN Economic Community and take advantage of our growing domestic market" said Secretary Lopez highlighting the significance of building the domestic auto market base to attain the necessary scale economies that would bring down costs of auto manufacturing in the country.
"The implementation of the CARS Program signals government's vigorous support and focus on industries with auto as platform for manufacturing take-off," said Secretary Lopez.
"This will maximize the trade and investment opportunities arising from the ASEAN Economic Community (AEC) and take advantage of our growing domestic market," he concluded.