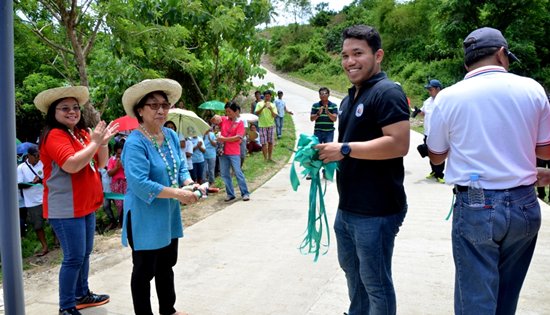 DAR Undersecretary Sylvia Mallari (2nd from L) and Mayor Philip Martin Astorga (2nd from R) cut the ceremonial ribbon during the inauguration and turnover of the 12.4-kilometer farm-to-market road implemented under the second phase of the Agrarian Reform Communities Project (ARCP-II) in the island-municipality of Daram, Samar. Assisting them are DAR Regional Director Sheila Enciso (L) and Provincial Agrarian Reform Program Officer Enrique Granados III (R).
DAR turns over third FMR in Daram
By JOSE ALSMITH L. SORIA
June 28, 2017
DARAM, Samar – As the Department of Agrarian Reform (DAR) commemorates this month the 29th year of implementation of the Comprehensive Agrarian Reform Program (CARP), said agency turned over on Monday to the local government unit its third and longest farm-to-market road project constructed in this island-municipality.
Undersecretary Sylvia Mallari led the turnover rite of the 12.4-kilometer all-weather road held in Barangay Birawan, some seven kilometers away from the town proper.
"This is in line with the President's pronouncement, Build! Build! Build!" Mallari said referring to the road project. "Upang patuloy ang pag-unlad ng kabuhayan, at magkaroon ng kapayapaan sa kapaligiran" she added.
In his acceptance message, Mayor Philip Martin Astorga stressed the benefits this project would bring to his town. According to him, this would serve a faster way to travel across the island, and further spur development through agriculture.
Residents of this municipality used to travel around the island by motorboat in the absence of a road.
Implemented under the second phase of the Agrarian Reform Communities Project (ARCP-II), this road, according to Municipal Agrarian Reform Program Officer Alfonso Jalalon, passes through seven barangays; Mabini, Ubo, Birawan, Astorga, Marupangdan, San Vicente and Bono-anon that would be benefited by the more than 5,600 residents in the area wherein about 500 are agrarian reform beneficiaries.
Regional Director Sheila Enciso disclosed that the total cost of this project, where critical portions of five kilometers are concreted, reached P48.9-million being shared by the LGU and a loan from the Asian Development Bank by the national government.
Thus, Enciso reminded the recipients to maintain it in good condition for 10 years. Otherwise the loan portion comprising 40 percent of the total cost will likewise be shouldered by the LGU.
Vice Mayor Lucia Astorga, who was the mayor during the planning stage, never forgot to mention in her welcome message former ARCP-II National Project Director Homer Tobias for considering this municipality and became a recipient of three farm-to-market roads making almost all barangays not only accessible, but opening livelihood opportunities as well.
According to her, the 40 percent share of the national government is of big help in the realization of this town's dream of building road networks.
Meanwhile, aside from the convenience they now experience in hauling farm products for trading, Birawan Kagawad Leonardo Papawran enumerated other benefits they are now enjoying with the existence of this road.
He disclosed that the road provided many residents another source of livelihood as motorcycle drivers.
It also serves as an alternate route during bad weather when not safe to travel on waters.
Likewise, Papawran emphasized, the youth from other barangays would now be encouraged to enroll at the Birawan National High School.