WORLD NEWS
First of its kind: Fashion show atop hydroelectric megastructure
Jessica Minh Anh added Hoover Dam into the world's most iconic runway venues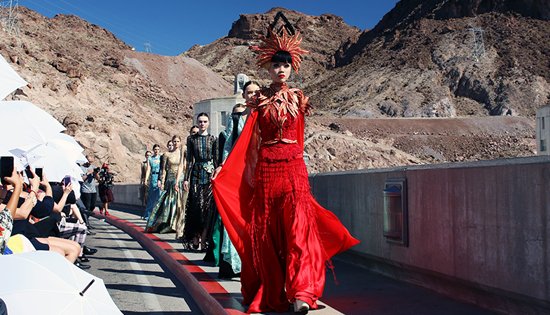 Press Release
June 27, 2017
NEVADA – Earlier today, producer of the world's most innovative runways transformed American engineering masterpiece, Hoover Dam, into a sky-high catwalk. Matching the unstoppable strength of a new daring generation with the hydroelectric power, Jessica Minh Anh's Summer Fashion Show 2017 premiered design excellence while redefining a series of modern standards. The extraordinary production, which stopped traffic atop the iconic megastructure, showcased 9 exquisite haute couture, ready-to-wear, and jewelry collections from 4 continents.
A perfect portrait of modern beauty with endless sensuality, Jessica Minh Anh opened the highly-anticipated catwalk in a mesmerizing mermaid red dress by Brazilian haute couturier Patricia Nascimento. Her striking royal look was complimented by an artistic crown-shaped architectural hairpiece by Mirror Mirror Vegas and uniquely designed crystal and gold jewelries from artist Cristina Sabatini. Against the cinematic backdrop of the Black Canyon and the dreamy Lake Mead, the exotic beauty was followed by a gorgeous model lineup in nude, white, pink, gold, and ocean blue gowns made of fluid fabrics. A master at stand-out waistline and elongated silhouette, Patricia and her new collection 'Realize' successfully inserted mystery and seduction onto the epic catwalk.
Returning to Jessica Minh Anh's grand production for the fifth time, Pakistani award-winning designer Syeda Amera celebrated femininity and elegance with a colorful floral collection inspired by the beautiful nature. Featuring over-sized shoulders, extravagant maxi dresses, and uniquely-cut jumpsuits, the radiant designs brightened up the catwalk while demonstrating special print technique on luxurious fabrics. Poppy, daisy, lily, and rose print were certainly part of the summer charm.
On the contrary, newcomer Kine Dione chose beige and white color pallet for her creatively embroidered collection. Focusing on refinement and craftsmanship, each piece was distinctively cut and handcrafted with gold flowers and pearl details on tulle, lace, silk, and organza. The gold regal designs played a significant role in adding the sun-kiss glow on the lavish looks.
Turkish representative Gulnur Gunes rejoined Jessica Minh Anh's exclusive runway with a powerful collection influenced by the beauty and intelligence of the Greek goddess Métis. Using special crystal embellishments on lilac, gold, and silver fabric mixed with daring cuts, the talented designer created ultimate glamour while effectively reflecting a woman's personality.
Next, South American designer Christian Zerrá gave audience a sense of solemnity and modernity through his exciting new collection which used baroque art on red, black, and white velvet and fine cotton. Perfectly blending traditional elements of the great Cuzco heritage with contemporary cuts and original embroideries, Cristian's designs cleverly revealed the alluring side of practical but by no means simplistic garments.
The ultra-charismatic and bold collection by Hong Kong-based brand Kaprice was a harmonious fusion of the East and the West. Bringing together ambience of texture and designs influenced from across the world, each piece infused freshness with vibrant colors and lightness from soft fabrics such as silk, satin, and chiffon. Imaginative and lavish, the "Kouture" collection, which included exclusive prints and Swarovski and sequins embellishments, gave out a dramatic appeal.
Adding class and sophistication to Jessica Minh Anh's summer catwalk, Malaysian powerhouse Emmanuel Haute Couture premiered a romantic bridal collection using luxurious fabrics, hand-beaded embellishments, and couture craftsmanship. With deep necklines and polished silhouettes, each design conveyed effortless elegance and edge.
An expert at fabric manipulation, three-dimensional embellishments, and technological cuts, Peruvian designer Ani Alvarez Calderon put the traditional crafts into a new context in the finale collection of the grand show. Inspired by famous architectural shapes of the pyramids, huacas and royal tombs, Ani's wearable arts were made of gold, turquoise, green, and black colour pallet. Saving the best for last, Jessica Minh Anh appeared as a goddess in a brilliantly crafted royal red dress and an impressive golden feather crown. Symbolizing the ancient beauty with both fragility and power, the supermodel closed the show with unattainable desire and supremacy.
The iconic J Summer Fashion Show 2017 was supported by industry best Joy Mangano, AVP Nationwide Productions, Saks Fifth Avenue Las Vegas, Arrow Stage Lines, Fred's Bakery, Alexis Park All Suite Resort, Hoover Dam Lodge Hotel & Casino, Body in Mind Pilates Studio, JB Pro Graphics, Icelandic Glacial, and Haas-Jordan. The show marked Jessica Minh Anh's 20th highly successful productions since her history-making catwalk on England's famous London's Tower Bridge. The catwalk queen is now ready for her next step: producing original series to share her inspiring journey of conquering the most challenging venues.