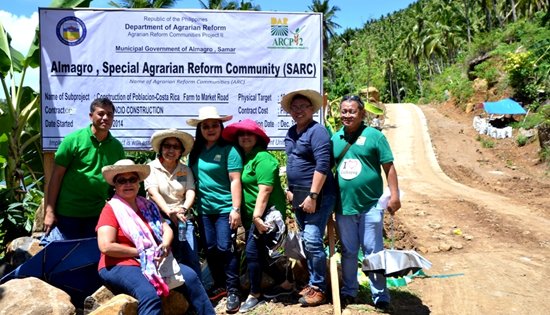 DAR officials from the central, regional, provincial and municipal offices pose near the billboard of the newly-inaugurated 12-kilometer farm-to-market road implemented under the second phase of the Agrarian Reform Communities Project in the island-municipality of Almagro, Samar. In the photo are (right to left) Engr. Cresencio Misagal, Rosario Regalado, Undersecretary Sylvia Mallari, Regional Director Sheila Enciso, Assistant Regional Directors Ma. Fe Malinao and Ismael Aya-ay, and Municipal Agrarian Reform Program Officer Pedrito Dejarlo.
DAR-8 turns over most expensive project
By JOSE ALSMITH L. SORIA
July 20, 2017
ALMAGRO, Samar – At P72-million, the 12.7-kilometer farm-to-market road turned over here recently by the Department of Agrarian Reform (DAR) makes it the most expensive single infrastructure project this agency has ever implemented in Eastern Visayas.
DAR Undersecretary Sylvia Mallari led the inauguration and turnover of the said project in this island-municipality to the local government unit (LGU), a day after she turned over a similar project in another island-municipality in this province.
Mayor Kathleen Prudenciado in her acceptance of the project implemented under the second phase of the Agrarian Reform Communities Project (ARCP-II) said "I believe development and progress (in this island paradise municipality) is so near for us to achieve".
According to her, the Almagrohanon had long been dreaming for a road that would cross this island.
Further, Association of Barangay Captains President Jenesa Tomamak said "mararating na natin mula puno hanggang dulo na hindi dumadaan sa karagatan", as villagers used to travel around the island through the sea that surrounds it using a motorboat.
With this more than 12-kilometer road passing through the barangays of Poblacion, Malobago, Roño, Tonga-Tonga, Lunang, Talahid, Costa Rica-I and Costa Rica-II, Tomamak disclosed that not only farmers and fishermen's products could be easily transported now, but these once remote areas could already be penetrated in the delivery of other government services as well.
About 8,000 residents in these areas with 450 agrarian reform beneficiaries (ARBs) are expected to benefit from this project.
To the unending thanks from the Almagrohanon, Mallari's response was "Salamat sa pagbibigay sa amin ng pagkakataon na kayo ay aming mapaglingkuran. Sa amin ang karangalan na makapaglingkod sa inyong lahat."
With this road, no place is isolated anymore, Mallari added, and hoped quality of life in this town, identified as a special agrarian reform community, would continue to improve.
Meanwhile, Regional Director Sheila Enciso explained the reason why the cost of the project was so high was because of the excavations that took place in the opening of the road.
The cost was shared by the LGU and the national government thru a loan from the Asian Development Bank.
Thus, Enciso reminded the recipients to maintain it in good condition for 10 years. Otherwise, the loan portion comprising 40 percent of the total cost will likewise be shouldered by the LGU.