Army chief visits Stormtroopers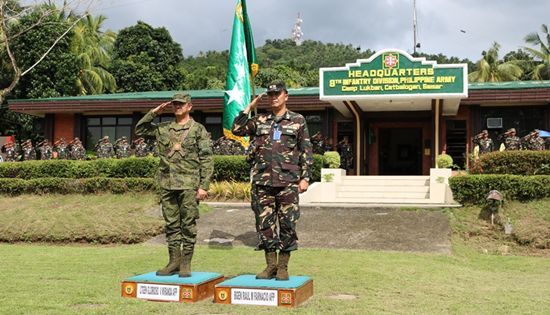 By DPAO, 8ID PA
January 20, 2016
CAMP LUKBAN, Catbalogan City – The Army's highest ranking officer together with his staff has officially visited the home of the 8th Infantry (Stormtroopers) Division, Philippine Army on January 18, 2017.
A full military honor was accorded to Lieut. Gen. Glorioso V. Miranda AFP, Commanding General of the Philippine Army upon his arrival at the Openiano Field and was warmly welcomed by Brig. Gen. Raul M. Farnacio AFP, Commander, 8ID, together with the officers, enlisted personnel and civilian employees of this Command.
This was his first visit to 8ID which boosted the morale of the troops to pursue development support to foster the foundation for inclusive and human development in Eastern Visayas.
"The strength of the Philippine Army rests on each and every one of us. My function as your Commanding General, or the function of your Division Commander, your Assistant Division Commander or your Battalion Commander is no more important than the function of an individual soldier out there in the squad. Every component of the organization has a vital role in accomplishing the mission. Strength is being defined the way we work together, the way we synchronize our effort, the way we harmonize our skills. Let's help together to win the peace and prosperity in our country." Lieut. Gen. Miranda added.