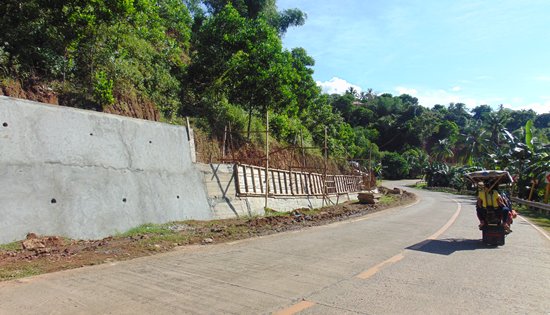 Completed Construction of Slope Protection along Naval-Caibiran Cross Country Road (NCCR). The project is under contract with Chu Construction with a contract cost of P41,600,000.00. The above road section is prone to flooding hence drainage structure was included in the Slope Protection project. Other than the slope protection structure and drainage, concrete paving is also included in the project. The completed project will provide a structure that will prevent further landslide along this road section and contain run-of water during rainy days to prevent future damage to existing paved National Road.
DPWH-Biliran DEO ending the year with 91.84% accomplishment of 2016 infra projects
By CHELSEA C. QUIJANO
January 9, 2017
NAVAL, Biliran – The Department of Public Works and Highways (DPWH), Biliran District Engineering Office (BDEO) ends the year with high accomplishment posting 91.84% surpassing the 85% district target set by the DPWH Central Office.
Biliran DEO has been allotted P683.745M under FY2016 DPWH Infrastructure Program with 66 projects.
David P. Adongay Jr., District Engineer revealed that out of the 66 lined-up projects, Biliran DEO completed 62 projects, with four remaining projects on-going under the Regular Infrastructure Program.
Adongay previously reported that these remaining projects encountered delay due to inclement weather condition in the Province of Biliran that hinders the contractors to smoothly perform their operation, and other problems such as the acquisition of Road-Right-of-Way (ROW).
These projects are the P45M Construction of Slope Protection along Biliran Circumferential Road (BCR); P45M Construction of Biliran Diversion Road including Slope Protection and ROW; P8.7M Replacement of Banlas Bridge along Maripipi Circumferential Road; and the P5M Repair of Biliran Bridge along Leyte- Biliran Road.
Adongay said that those remaining projects will be spilled over on the 1st quarter of 2017.
"We need to fast-track on our implementation of projects pero hindi ibig sabihin na pag' inii-speed natin yung ating implementation ay mawawala na yung quality, speed and quality of projects should go together," Adongay reminded during the last day of work on December 29, 2016 during the flag retreat.
Adongay was recently awarded as Best District Engineer at DPWH Regional Office Baras, Palo Leyte on Dec. 21, 2016 for his invaluable support and high degree of commitment in all the undertakings of the Regional Office and for consistently rendering his superior performance in the attainment of the Department's Mission, Vision and Strategic Objectives.
Moreover, Biliran DEO ends the year garnering the awards as Best in Planning and Design Section (PDS), Best in Financial Management Section (FMS) and Overall Best District Engineering Office out of 13 District Offices in Region VIII.