President Duterte visits victims of Hilongos, Leyte blast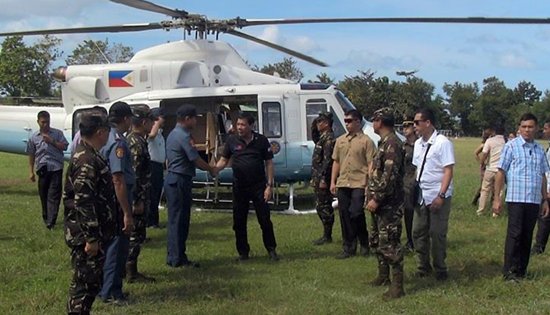 By DPAO, 8ID PA
December 30, 2016
CAMP LUKBAN, Catbalogan City – It was December 28, 2016 at 9 o'clock in the evening, while the residents were enjoying a boxing match in connection with the town fiesta celebration, when two improvised explosive devices from 81mm mortar ammunition exploded at the municipal plaza, Central Poblacion, Hilongos, Leyte that eventually injured 32 residents of the said town.
On December 30, 2016, two days after the Hilongos, Leyte Bombing, Pres. Duterte arrived at Ormoc City Airport at around 9:40am and was warmly received by Maj. Gen. Oscar T Lactao AFP, CENTCOM Commander; Brig. Gen. Raul M Farnacio AFP, 8ID Commander; PSSupt Roberto T Badian, PRO8 Deputy Regional Director for Admin; Secretary Michael Dino, Presidential Assistant for Eastern Visayas; Hon. Lucy Torres-Gomes, 4th District Representative of Leyte; Hon. Richard Gomes, Ormoc City Mayor, and other members of Sanguniang Panlungsod of Ormoc City.
President Duterte immediately flew to Hilongos, Leyte via presidential helicopter and arrived in the area at around 10:21am at Hilongos district hospital to visit the victims of the bombing. He gave financial assistance worth P10,000.00 pesos and cellphone to every victim, and promised a scholarship for every graduating student who became a victim of the bombing incident.
He likewise ensured that PhilHealth will assist the victims in paying their hospital bills. Any excess hospital bills that cannot be shouldered by PhilHealth will be shouldered by DSWD while the crutches and wheelchairs will be provided by DOH, the President said.
During his message before the people of Hilongos, the President said, that the bombing incident in that town is part of the plan of the enemy of the state to destabilize the government. Hence, he reminded the local PNP & AFP units to be more vigilant of terrorist's plan in the days ahead especially bombings of the Maute group.
In this regard all local AFP unit commanders are advised to proactively coordinate with their PNP counterparts to increase joint patrols and check points in urban centers, ports, churches and other critical infrastructures. The visit of President Duterte in the municipality of Hilongos, Leyte culminated at about 12 o'clock noon and he immediately returned to Ormoc City airport and boarded the presidential private plane going to Davao City.