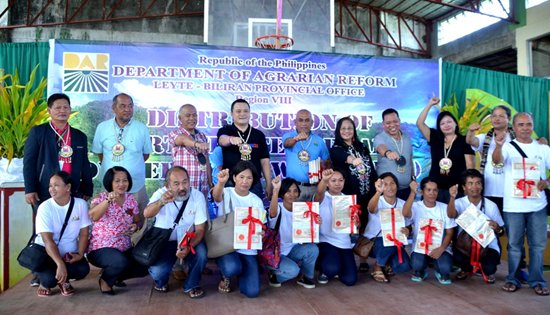 Recipients of certificates of land ownership award (CLOAs) pose during photo opportunity with Agrarian Reform Undersecretary for Field Operations Karlo Bello (4th from left) and other officials from DAR, LGU and RIGHTS.
921 Leyte farmers receive CLOA from DAR
By JOSE ALSMITH L. SORIA
December 23, 2017
CARIGARA, Leyte – The Department of Agrarian Reform (DAR) turned the Christmas of 921 Leyte farmers more meaningful as the latter received their long awaited certificates of land ownership award (CLOAs) here last week.
A total of 442 individual and collective CLOAs covering 941.5 hectares of farmlands situated in the municipalities of Barugo, Jaro and San Miguel were distributed by DAR Undersecretary for Field Operations Karlo Bello during the occasion.
Bello thanked the DAR personnel for doing their jobs despite various problems being encountered in the field.
To the farmer beneficiaries, Bello asked them to just continue believing in the government.
OIC-Regional Director Ma. Fe Malinao disclosed that these are part of the unreleased CLOAs pending at the Registry of Deeds (ROD) for several years. According to her, this is now the third distribution since November last year after thorough validation of agrarian reform beneficiaries.
Old couple Dulcisimo Sotto, 84, and Soledad, 82, of Barangay Bahay, San Miguel, Leyte thanked DAR for they now have the right to the land they are tilling.
Lolita Arpon of Barangay Malpag, San Miguel, Leyte thanked DAR also for she won't be going to Tacloban City anymore just to follow up when their CLOA will be released. To her, it was a wonderful Christmas gift she received this season.
Though speechless, a grandmother from Barangay Macanip, Jaro, Leyte Juanita Colangco, 87, can't hide her happiness when she received her CLOA.
Meanwhile, DAR Leyte Provincial Office Chief of the Legal Division Daniel Pen reminded the agrarian reform beneficiaries of their responsibilities and obligations during the said occasion emphasizing not to sell their awarded lands but make them productive instead, and pay their taxes as they are now the owners of the land.