DTI gives livelihood to families of soldiers slain in Marawi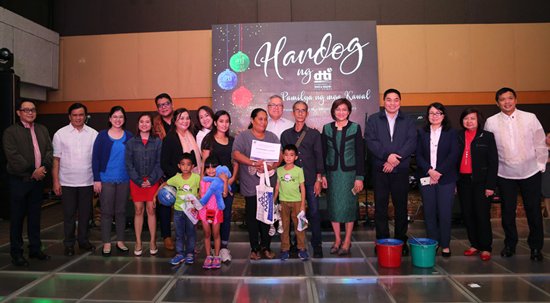 By DTI-OSEC-PRU
December 22, 2017
MANILA – The families of soldiers who were killed in action in Marawi were the recent (18 December 2017) beneficiaries of livelihood packages as part of a tribute organized by the Department of Trade and Industry (DTI) at the PICC in Manila.
"DTI acknowledges the ultimate sacrifice made by our soldiers who fought and died during the Marawi siege. In the spirit of the season and as a show of continued support from the Duterte Administration, we decided to forego the usual department-wide Christmas party and use the funds instead to help the families of the slain soldiers," Trade Secretary Ramon Lopez said.
Over 29 families of soldiers killed in Marawi each received a Kabuhayan Starter Kit, a book on stories of DTI-assisted entrepreneurs to inspire them, several gift items and gift certificates, and toys for their children.
We also offered equity financing packages for the negosyo they would like to pursue.
Likewise, the JVO Foundation also gave food packs for each of the families that attended the event. Gift certificates amounting to a total of P100,000 were also raffled off to the families.
Prior to this event, DTI reached out to help the soldiers who were wounded during the Marawi fighting by holding the "TNKS Po! Trabaho, Negosyo, Kabuhayan 'Kaya Natin 'Yan'" event at the AFP Medical Center in Quezon City on 3 December 2017.
DTI not only gave out Christmas gifts and raffle prizes to the wounded soldiers and their dependents during this event but also offered negosyo mentoring and consultations on how to start their own business. Livelihood packages also to be given once they select their preferred negosyo.