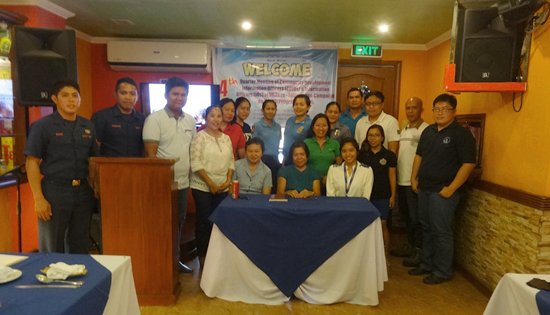 Information Officers of the different National Government Agencies together with Flordelis E. Jackson (middle, wearing blue-green blouse) of the Philippine Information Agency take time to pose at the end of their 4th Quarter Meeting held on November 22, 2017 at the D`Adaone Bar and Restaurant, naval, Biliran.
DPWH-BDEO PIOs participate in the 4th quarter meeting of CDIO
By CARL MARK D. PEDRERA
December 12, 2017
NAVAL, Biliran – The Philippine Information Agency (PIA) held its 4th Quarter Meeting of Community Development Information Officer (CDIO) / Information Officers (IOs) of National Government Agencies (NGAs) Re: Information Campaign on Health Programs of the Department of Health (DOH) last November 22, 2017 at the D'Adaone Bar and Restaurant, Naval, Biliran.
The said meeting was attended by representatives of different government agencies in Naval like the Philippine Coast Guard (PCG), Department of Education (DepEd), Bureau of Fire Protection (BFP), Organic Trading Post - Naval, Naval State University (NSU), Bureau of Jail Management and Penology (BJMP), National Food Authority (NFA), Department of Labor and Employment - Biliran Field Office (DOLE-BFO), Philippine National Police - Biliran Police Provincial Office (PNP-BPPO), Philippine Statistic Authority (PSA), Department of Environment and Natural Resources (DENR), Department of Science and Technology (DOST), Department of Trade and Industry (DTI), Technical Education and Skills Development Authority (TESDA), Department of Public Works and Highways - Biliran District Engineering Office (DPWH-BDEO), Biliran Provincial Health Office (BPHO) and Local Government Units (LGUs) of the different municipalities of the province of Biliran.
The meeting started with the introduction of the participants and their affiliated agency followed by their 4th Quarter Programs and Plans. Each were given ample time to discuss what their respective agency has been doing for the past months and their achievements.
Biliran DEO reported that as of October 2017, the district office has completed substantial number of projects for year 2016 and 2017. Furthermore, there are already projects in line for FY2018.
Flordelis E. Jackson, Information Center Manager, discussed about the evaluation of the ASEAN Tarpaulins for distribution/hanging in every municipality to commemorate the 2017 ASEAN Summit.
Afterwards, the DOH Representatives in the person of Rachel Pangan and Eduardo Estroso talked about the common diseases affecting the people in Biliran. They also discussed on the ten (10) leading cases of morbidity (e.g. Acute Respiratory Infection, Pneumonia, Hypertension, Urinary Tract Infection, etc.).
The meeting ended after majority of the participants voted that the election for the new set of officers of the Biliran Association of Government Information Officers (BAGIO) will be held on a later date due to absence of the current officers.