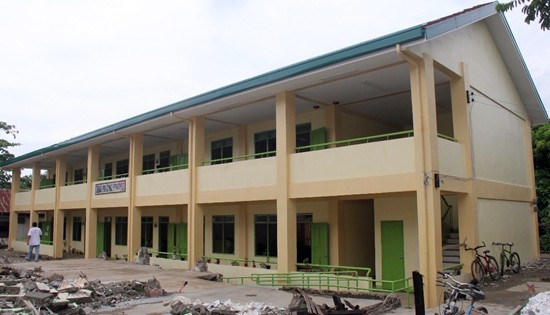 The CCNHS Senior High School building for Grade-12 students is now totally completed.
CCNHS's P8.2 million school building project completed
By JASON T. DE LOS ANGELES
December 11, 2017
CALBAYOG CITY – DPWH Samar First District Engineering Office completes the construction of two-storey, 6 classrooms for Calbayog City National High School (CCNHS) located at Brgy. Hamorawon near City Post Office which is 2-3 minutes ride from the city proper.
The project is implemented by Samar I and is under contract with CDU Construction with a total appropriation of P8.2 million under the Basic Educational Facilities Fund (BEFF).
Mr. Calick D. Arrieta, the school principal, said that this school building is now occupied by the Grade-12 senior high school students. Since the start of the senior high school operation, the Calbayog City National High School is faced with the lack of classrooms. He is very thankful that the said building was completed just this year and the students are no longer staying in different campuses.
This new school building will directly benefit the Grade-12 Senior High students. This project will answer the needs for more classrooms for the increased number of high school students of Calbayog City National High School numbering to 4,100 students.