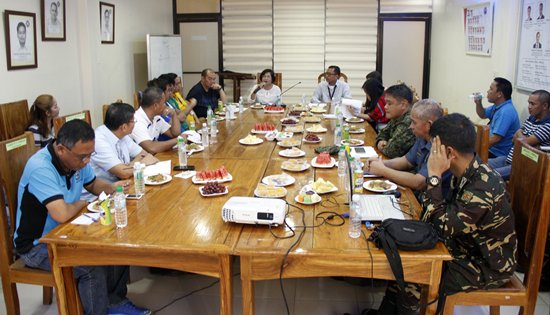 Emy Bonifacio, Regional Director of PAMANA-OPAPP, leads coordination meeting with DPWH–SFDEO representatives and Task Force Commanders.
Samar First DEO coordination meeting with PAMANA held
By ELENOR A. ANOLLADO and APRIL FATIMA D. VILLANUEVA
August 30, 2017
CALBAYOG CITY – The Department of Public Works and Highways for this year undertakes first coordination meeting with the PAMANA-OPAPP, held at Samar First District Engineering Office's conference hall, San Policarpo, Calbayog City on August 3, 2017.
The meeting is spearheaded by the Regional Director of PAMANA-OPAPP Emy Bonifacio together with the District Engineer Alvin A. Ignacio, City Planning Officials and Task Force Commanders.
Payapa at Masaganang Pamayanan (PAMANA) is the national government's convergence program that extends development interventions to isolated, hard-to-reach and conflict-affected communities, ensuring that they are not left behind. With a number of national line agencies as implementing partners, PAMANA remains as the government's flagship program for conflict-vulnerable and –affected areas in the country – covering all existing developments and improvements.
The goal of the meeting is to organize and get feedback from all the planning sectors of DPWH districts as well as local government units and gather information as to what would be beneficial for the area/s. Projects are proposed that are mostly roads that will interlink different municipalities, cities, and barangays.
The vision of PAMANA is laying the foundation though policy reforms that establish the foundation of freedom from disorder, promotes the convergent delivery of services and goods focused on households and communities and connecting to other communities by linking conflict affected areas to markets and promote jobs generation in provincial or municipal government.