DPWH-Biliran DEO completes replacement of Banlas bridge at Maripipi, Biliran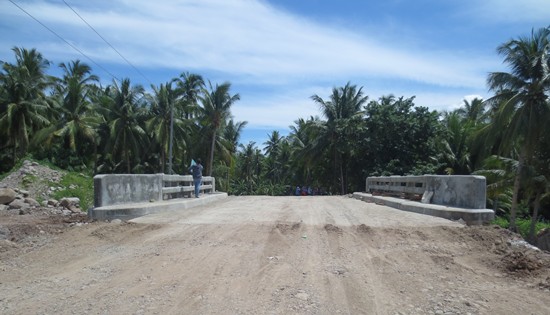 Press Release
August 28, 2017
NAVAL, Biliran – The Department of Public Works and Highways-Biliran District Engineering Office reports 100% completion of the P8.7M Replacement of Banlas Bridge (B00061BR) along Maripipi Circumferential Road under FY 2016.
According to Engr. Alberto V. Cañete, Project Engineer, the Replacement of Banlas Bridge was target to be completed on August 18, 2016 but was extended due to several changes in the variation order and request time extension from the contractor.
"The Banlas Bridge was delayed because the contractor finds difficulty in transporting construction materials to the project site," said Cañete.
The Municipality of Maripipi, is an island separated to the mainland of Naval, the capital town of the province and can only be reached through a small boat with an estimated time travel of one hour and thirty minutes to two hours from Naval.
Cañete revealed that the project was completed on July 30, 2017 under contract with LEDA Construction Inc.
The existing Banlas Bridge is a concrete Bridge with a length of 5.70 meters and a width of 4.0 meters which fall short of the National standards, hence it was proposed with replacement. The newly completed bridge is a Reinforced Concrete Deck Girder (RCDG) bridge with a width of 8.70 meters and a length of 9.0 meters located along Maripipi Circumferential Road.
The completed bridge will provide a standard Bridge (with two lanes) in replacement of the old one which is sub-standard (with one lane only) thereby providing safe passage to the travelling public. It will benefit more or less 6,000 residents of the Municipality of Maripipi.