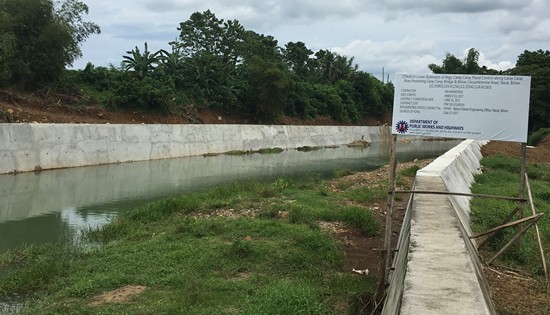 Newly completed Construction of Flood Control along Caray-caray River Protecting Caray-caray Bridge and Biliran Circumferential Road, Naval, Biliran. The project was completed on July 10, 2017 with a contract cost of P20M under BM Marketing. The project was prioritized because of its necessity to mitigate flooding along Caraycaray River and to minimize flood related casualties and damage to properties crops and surrounding environment.
DPWH-BDEO fast-tracks the construction of on-going projects
Press Release
August 25, 2017
NAVAL, Biliran – The Department of Public Works and Highways (DPWH) - Biliran District Engineering Office (BDEO) has completed 36 out of 57 lined-up projects under FY 2017 with a total allotment budget of P940.730M.
Engr. Salvador G. Regis,Jr. , Chief of Construction Section said that they are fast-tracking the completion of 18 on-going projects to attain the target date of completion of each projects.
Biliran DEO's FY 2017 Infra Program consists of twenty (20) projects under the National Road Network Services; five (5) under the Flood Management Services, one (1) project under the Maintenance and Construction Services of other Infrastructure; and thirty-one (31) projects under the Local Infrastructure Program with a total of 57 projects based on GAA.
As of July 31, 2017, DPWH-BDEO posts 35.30% with only three projects Not-Yet-Started (NYS). According to Engr. Regis these NYS projects have just bid out and undergoing post qualification while one is for revision and approval under the District Engineer's authority.
BDEO's major projects for 2017 includes the P128.667M Concrete/ Reconstruction of Maripipi Circumferential Road, P61M Slope protection project along Naval-Caibiran Cross Country Road, and P54.939M Rehabilitation including drainage and Right-Of-Way(ROW) Acquisition of Access Road Leading to Naval Port, Naval, Biliran.
Another major project prioritized for FY 2017 is the road widening including drainage of Biliran Circumferential Road of road sections in Brgy. Tucdao, Kawayan, Brgy. Virginia, Culaba, Brgy. Bool, Culaba, Sto.Riverside to Sto. Sagrada, Naval, Brgy. Burabod, Biliran and Brgy. BalaquidCabucgayan, Biliran costing P172.192M with total length of 5.940km and another P125.588M road widening project of road sections in Brgy. Lumbia, Biliran, Brgy. Burabod, Kawayan, Brgy. Mapuyo, Kawayan, Brgy.Tucdao, Kawayan, and Brgy. Kaulangohan,Caibiran, Biliran with a total length of 4.281km.
Engr. Regis said that the P172.192M and P125.588M widening project along BCR have just started in the month of July and now being closely monitored along with other on-going projects.
The big amount projects were started late due to late approval of the "request to bid and implement" at the Central Office, Manila.