Sueno to LGU awardees: Let's journey towards federalism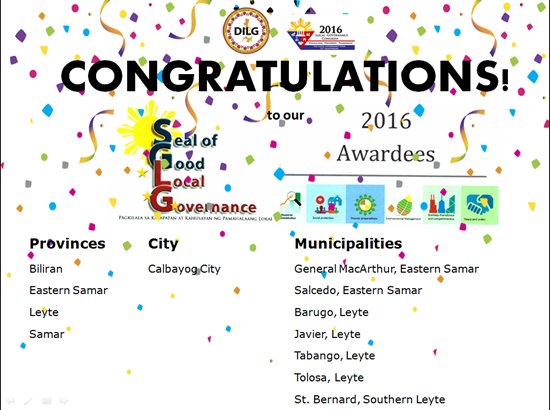 Press Release
October 27, 2016
TACLOBAN CITY – Interior and Local Government Secretary Ismael 'Mike' D. Sueno has urged the 318 local government units (LGUs) which were conferred with the Seal of Good Local Governance (SGLG) and the Lupong Tagapamayapa Incentive Award (LTIA) to "look forward to new challenges under federalism."
"Let us continue this journey of good local governance, of decentralization and local autonomy and look forward to new challenges under a federal system of government," said Sueno.
The DILG Secretary made the remarks during the culminating ceremony of the 25th anniversary of the Local Government Code (LGC) at the Sofitel Philippine Plaza Manila this afternoon.
Of the 318 LGU awardees, 306 were conferred with SGLG for passing the test of good governance, while four barangays bagged the Outstanding Lupong Tagapamayapa award, with the rest being declared as runners-up.
Of the 306 SGLG awardees, 43 are provinces, 51 are cities and 212 are municipalities. The SGLG awardees will receive an incentive fund called Performance Challenge Fund, and will be able to access other DILG projects. For the complete list of SGLG awardees, please visit www.dilg.gov.ph (Reports and Resources).
According to Sueno, passing the test of good governance means having complied with all the requirements of three core areas – financial administration, disaster preparedness and social protection, and any one of the essential criteria – business-friendliness and competitiveness, peace and order, and environmental management.
In Eastern Visayas, Regional Director Marivel C. Sacendoncillo lauded the SGLG winners as well as the LTIA National awardee for 4th-6th class municipalities (Brgy. Hingatungan, Silago, Southern Leyte) for observing the tenets of good governance. The 12 SGLG awardees in Region 8 are the provinces of Biliran, Eastern Samar, Leyte and Samar; for Cities, Calbayog City; and the municipalities of General MacArthur and Salcedo in Eastern Samar; Barugo, Javier, Tabango and Tolosa in Leyte; and St. Bernard in Southern Leyte.
The Local Government Code is a landmark piece of legislation that has revolutionized local governance as it devolved powers and authority from the national to the local governments.