WORLD NEWS
Sky-high ocean catwalk lit up New York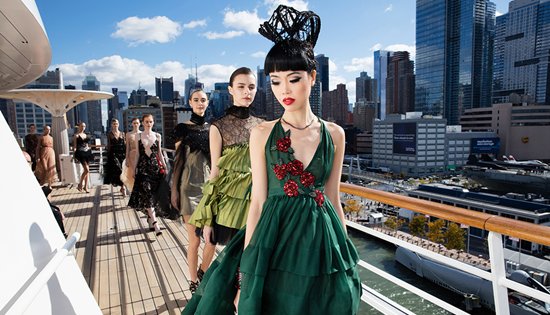 Jessica Minh Anh transformed AIDAluna's sun deck into the world's newest runway
Press Release
October 24, 2016
NEW YORK – Fashion show production was taken to a whole new level yesterday when Jessica Minh Anh hosted an impressive sky-high ocean catwalk overlooking New York's famous skyline. Nearly 100 exquisite haute couture and innovative designs from 9 countries were premiered in what can only be described as a flawless theatrical showcase of modern excellence. Staged on the sun deck of the German cruise ship AIDAluna, J Autumn Fashion Show 2016 celebrated the refreshing take on fashion of a new generation of female leaders.
A perfect portrait of class and elegance, Jessica Minh Anh opened the iconic catwalk in a 50's inspired green velvet abaya with striking metallic buttons by Debaj Collection. Following the exotic beauty was a line up of models showcasing artistic touches on Qatari traditional outfits.
Adding colours to the grand catwalk, Peruvian designer Ani Alvarez Calderón premiered a red, gold, and white collection, which focused on innovative craftsmanship and characteristic textile pattern. The South American representative successfully combined technological fabrics with handmade beadings using her unique sense of Peruvian aesthetics.
Next, Polish renowed designer Teresa Rosati brought romance, delicacy, and lightness with her Victorian-style collection called the "Autumn Waves". The artist creatively used chiffon and organza with faded red, beige and green colour palette to introduce modest cuts alongside ambiguous transparency. Featuring stand-up collars, ruffles, and elaborate embroidery and decoration, the collection transcended sophistication and edge.
Returning to Jessica Minh Anh's theatrical catwalk, Lebanese haute couturier Rouba.G presented a daring and seductive lace-meet-leather collection to celebrate women's individuality and independence. Simultaneously, flowing sheer fabrics were used to express femininity and softness. The captivating "Romancing False Truths" designs revealed advanced fabric manipulation and customisation. Indonesian representative Ivonne Magdalena effectively inserted playful and chic elements onto the catwalk by mixing bold colours with feminine details. Creating a mystic fusion of lure and strength, her VONE collection defined the contemporary style at its finest.
Chotronette from Romania transformed the classic Eastern European look into the new age's romanticism with a timeless and dreamy collection. The exquisite handmade designs are a visual playground of pastels and neon colours, fluidity and shapes, with modernised details.
The mesmerising finale collection by Lebanese fashion house Eden Haute Couture included 3-dimension embellishments and impeccable craftsmanship. The collection spoke "couture" through its sumptuous fabrics, meticulously hand beaded textiles, and distinctive cuts. Saving the best for last, Jessica Minh Anh emerged and blossomed in a breath-taking multilayered crystal dress against the epic backdrop of New York City.
To compliment Jessica Minh Anh's extraordinary vision, Red Market Salon exclusively created an architectural hairstyle which mimicked the 3 famous bridges: the Manhattan Bridge, Williamsburg Bridge, and Brooklyn Bridge. Jessica Minh Anh's flawless look was completed with various state-of-the-art jewelry sets crafted by Brazilian talent Cristina Sabatini. The show was supported by AIDA Cruises, Fotocare, Chicstudios NYC, New York Printing Solutions, and Easy Print.
J Autumn Fashion Show 2016 marked Jessica Minh Anh's 15th high profile showcase since her history-making catwalk on the Tower Bridge in London. The multitalented model and entrepreneur, who has continuously captured the world's attention, has already started planning her next phenomenon. "I believe the most outstanding creations should be showcased at the best of locations with unconventional catwalk concepts. I'm determined to make it a reality every time" said Jessica Minh Anh. For more info, visit www.jmodelmanagement.co.uk and follow @jessicaminhanh for the catwalk video release.