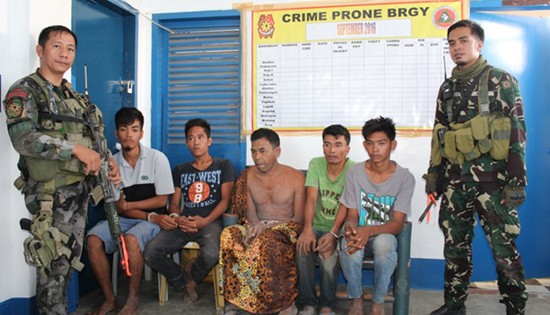 Suspected drug traders who were captured in a search warrant operations by joint elements of the PNP and military at Brgy. Timbangan, Shariff Aguak, Maguindanao on October 6, 2016.
(Photo by JPC)
Cops, soldiers nab suspected drug dealers in Maguindanao
By 19th Infantry Battalion, 8ID PA
October 7, 2016
SHARIFF AGUAK, Maguindanao – Authorities arrested five (5) suspected drug dealers during a law enforcement operations in this town on Thursday, October 6.
Police Chief Inspector Armando Liwan, Chief of Shariff Aguak Municipal Police Station identified the suspects as Macky Balubugan Dumpao, 48; Mensing Sumalay Daligdig, 18; Abo Subpian Dumpao, 20; Montero Baluno Dumpao, 18; and Tato Ali Ezong a.k.a. Cobra, 30.
The suspects were captured after a five-minute firefight during the attempted serving of the search warrant around 6:45 a.m. at So. Dumpao, Timbangan, Shariff Aguak.
The items seized during the operation were one small sachet containing alleged methamphetamine hydrochloride (shabu), 11 empty sachets, six pieces of disposable lighter, two digital weighing scales, one roll aluminum foil, one M16 rifle with scope and attached M203 grenade launcher, one improvised M79 grenade launcher, one magazine loaded with seven live ammunitions, one M203 grenade launcher ammunition, one M16 magazine pouch, and one grenade launcher pouch.
Liwan said that joint personnel of Shariff Aguak Municipal Police Station, Provincial Public Safety Company and 19th Infantry (Commando) Battalion launched the operation by virtue of search warrants number 2016-146, 2016-143, 2016-144-and 2016-145 issued by Judge Banzawan Ibrahim, Al-Haj of Regional Trial Court (RTC) Branch13.
The other subjects of the search warrant who were said to be Macky Dumpao's cohorts in illegal drug trade were able to escape during the ensuing firefight and fled the from the scene.
Meanwhile, the arrested suspects are now detained at Shariff Aguak Municipal Police Station pending the filing of charges for violation of Republic Act 9165 (Illegal Selling and Illegal Possession of Dangerous Drugs) and Republic Act 8294 (Illegal Possession of Firearms).