NMP conducted stakeholders' forum on completed researches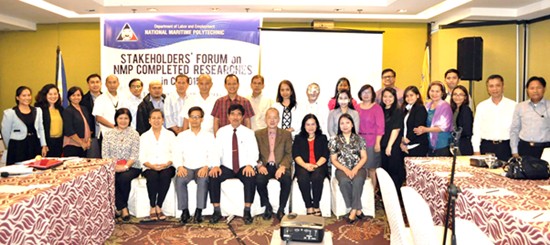 Press Release
May 24, 2016
MANILA – The National Maritime Polytechnic (NMP) as the only government owned maritime training assessment and research institution located at Brgy. Cabalawan, Tacloban City conducted stakeholders' forum on completed researches for the calendar year (CY) 2015 last 27th of April 2016 with twenty seven (27) participants/representatives coming from various government agencies, maritime associations, manning/shipping, shipbuilding and ship repair companies nationwide and a guest speaker from the office of the Secretary- Department of Labor and Employment (DOLE) represented by Director Henry John Jalbuena.
Director Jalbuena, in his opening message encouraged everyone to take part in instituting reforms in the policies and programs of the maritime industry using evidence from researches towards a more fact-based decisions in policy and program reforms and development that will lend to high quality services reflecting the interests, needs and choices of the individuals we serve.
Two (2) completed researches were presented that aimed to disseminate the study findings which results would be valuable, to validate and solicit research topics for the NMP research agenda 2017-2019 and to sustain linkages between and among different stakeholders of the maritime industry.
The 1st completed research entitled "The Potential Impact of the ASEAN Integration on Philippine maritime manpower" presented by the head of the Maritime Research Section (MRS), Ma. Nissa C. Espiritu which was conducted and completed last year focused on the possible impact of the ASEAN integration to the employment of the Filipino seafarers. The aforesaid study provides guidance to different stakeholders on employment policies and programs for seafarers' preparation and protection in an integrated region.
The 2nd research which entitled "Maritime-Related Skills Assessment and Training Needs of Workers in Shipbuilding and Ship Repair Sector" presented by Miss Zenaida Eugenia D. Palita, SRS II was in collaboration with the Maritime Industry Authority (MARINA) which generated information on skills available vis-à-vis skills required in the shipbuilding and ship repair sector to be able to identify skill gaps and thereafter proposed strategies and approaches to address the identified gaps in line with the country's efforts in promoting and developing the shipbuilding and ship repair sector.
Subsequently after the research presentations, an open forum was organized that prompted suggestions, comments and recommendations from the participants from various maritime sector. Moreover, a presentation of the NMP Research Agenda for 2017-2019 and the submitted researchable topics was also tackled that gained valuable suggestions from the different participants.
NMP OIC Executive Director Manuel C. Roldan, CESO III closed the forum with a message, thanking the participants for sharing their valued time, interest and contributions towards better research outcome.