SPECIAL REPORT
Communities sustain climate action on 10th year of "An Inconvenient Truth"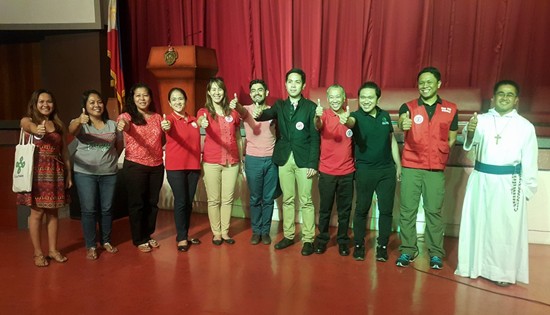 By Climate Reality Project Philippines
May 24, 2016
CEBU CITY – Commemorating the 10th anniversary of Academy award-winning film "An Inconvenient Truth", environment groups and climate vulnerable communities gathered in Cebu to call for the cancellation of approved coal-fired power plants proposals and just transition to renewable and cleaner energy source.
The Climate Reality Project Philippines in cooperation with the Office of Senator Loren Legarda, Dakila, Greenpeace, Pusyon Kinaiyahan, Foundation for the Philippine Environment and the University of San Jose de Recoletos organized an exclusive screening of An Inconvenient Truth and a multi-sectoral dialogue with students, the religious, and representatives from coal-fired power plant-affected communities in cities of Naga, Toledo and Cebu especially that of barangays Sawang Calero and Pasil.
When former Vice President Al Gore and Participant Media released An Inconvenient Truth in 2006, the effect was immediate and profound: people everywhere began talking about the climate crisis – to their friends, their family, and everyone in their lives – sparking a new kind of movement with millions demanding action all across the planet.
For so many of us, An Inconvenient Truth was a wakeup call. It was the moment we understood the reality of the climate crisis devastating our planet – and it was the moment we knew we personally had to do something. May 24 marks the 10-year anniversary of the film's release, and we want to acknowledge and thank you for the critical role you've played in making it a global phenomenon.
In 2006, An Inconvenient Truth inspired millions around the world to speak up about the climate crisis. Since then, we've made progress on many fronts. Just last December, 195 countries created the historic Paris Agreement to cut global warming pollution and accelerate the shift to clean energy. This was a turning point but there's still tremendous work ahead.
This is the challenge of our time. Our work to solve the climate crisis could not be more urgent or important. But today momentum is with us, and together we can solve it.
Quotes from key speakers:
Al Gore, Nobel Laureate and former US Vice President; and Chairperson of The Climate Reality Project (Video Message) -
When we released the "An Inconvenient Truth" in 2006, I knew we had an important message to share. But what I couldn't have known was that the countless people like you would hear that message and begin talking about the urgency of the climate crisis in persuasive ways – to their friends, their families, and their communities – and then, together, we would spark a new kind of movement with millions of people calling for climate action around the world.
So as we take a moment to celebrate the 10-year anniversary of An Inconvenient Truth, I just wanted to say "Thank You". Thank you for finding the moral courage to stand up, even when it wasn't easy, for taking action to protect our only home, and thank you for making a difference. We've made a lot of progress together. Just think, last year, 195 nations reach the historic Paris Agreement to cut global warming pollution and accelerate the shift to clean energy, a true turning point, but there's still tremendous work ahead. And that's why I'll be working with the Climate Reality Project to ensure that countries not only stick to their commitments but make those commitments even stronger in the years ahead. And I'm counting on you to continue helping to meet that challenge, the challenge of our time.
Our work to solve the climate crisis couldn't possibly be more urgent or important. But now the momentum is on our side. I know we can solve the climate crisis. And I know that thanks to you we will.
Senator Loren Legarda, Chairperson of the Senate Committee on Climate Change (Keynote Speaker) –
A lot has changed since that year when An Inconvenient Truth was launched, especially on how we perceive the climate change phenomenon. People now have a better understanding of the climate crisis and how it is linked to our survival. An Inconvenient Truth continues to ignite climate action.
As a developing nation, it is understandable that the Philippines needs more power, but it cannot be "we need power at all costs and we will develop at all costs."
They say that coal is cheap. I say, coal is not cheap. Coal affects our health, kills biodiversity and the environment, affects our waters and pollutes the air we breathe.
We are a country rich in renewable energy – the amount of sun and wind is more than enough to power our entire country many times over.
There is no reason to hesitate or delay action on a challenge so compelling, on a threat to humanity so clear and present. For every second that ticks away is but a second closer to the next calamity. We must lead the way towards meaningful change for our children and grandchildren, for all of humanity, for all species in the world, and for Mother Earth.
Rodne Galicha, Country Manager of the Climate Reality Project Philippines –
Looking back at the challenges of the film, we were reminded that our planet has all the means to make our lives convenient through sustainable utilization of resources within the carrying capacity nature. However, due to our excessive search for convenience, the long-term result becomes more inconvenient for our own species to thrive and others are in danger of extinction. Solving this biggest crisis the world is facing needs every individual's commitment and collective action to shift to a cleaner and livable future.
The Climate Reality Project in the Philippines will continue to work with communities and partners to collectively regain the power of the people to define the future they want for their children's children and the planet.
Screening the film in Cebu City after the communities' triumph against the proposed coal-fired power plant in Barangay Sawang Calero is both a celebration and a way to collectively reflect on why we do what we can to combat climate change.
Brother Jaazeal Jakosalem, Co-Convener of Pusyon Kinaiyahan –
Since 2006, Al Gore's Inconvenient Truth still echoes our planet's cry. The most vulnerable communities especially the poor call for justice. We are all impelled to take drastic action to bring back balance and harmony upon all of creation. Indeed, the cry of the earth is the cry of the poor. This is a moral and spiritual issue, the integrity of creation.
Gideon Lasco, Environment Champion for the Climate Reality Project Philippines –
It remains inconvenient to live up to the implications of climate change partly because for every inconvenient truth, there is a convenient falsehood. Today, we hear politicians talk about "clean coal", as if the word "clean" before coal can exorcise the havoc coal and other fossil fuels have wrought upon our planet (coal plants alone account for 1/3 of global carbon emissions). Today, we hear people talk about "responsible mining", which, while it may indeed be a possibility in the future, detracts from the fact that mining has been responsible for the environmental degradation in many areas - from Semirara to Surigao.
But perhaps the most convenient falsehood of all is the idea that we are too insignificant to make a difference. Indeed, if there is something we can draw inspiration from in the past ten years, it is the fact that no effort is too small not to count in our fight to save the planet.
Reuben Muni, Climate and Energy Campaigner for Greenpeace –
The film "An Inconvenient Truth" tells us this truth: there is no such thing as an insignificant act when it comes to solving the climate crisis. 10 years after Al Gore released his film in May 2006, this wisdom still remains. Every battle against coal is therefore a significant battle for the planet. Cebu is one of the most important battles for climate change in the Philippines. It is not just the country that is watching but the whole world. Unfortunately, what happens in Cebu does not stay in Cebu. If we allow another coal plant to be built in Cebu, then we are sending signals to the rest of the country that it is okay to build more elsewhere.
Hence, Cebu is one of the iconic fights against coal of our generation. We owe it to the next generation to ensure that there are no more coal plants that will be built in Cebu. This year, the people of Cebu City rejected a proposed coal plant right in the heart of the city. And this year, we declare that Cebu will break free from coal and other forms of dirty energy.
Ara Chawdhury, Creative Director of Dakila's Cebu Collective –
It is evident with An Inconvenient Truth what the power of film can be. It can be policy changing petition forming, mind changing. At its best, mind blowing. At its worst, mind numbing.
Film is supposed to shake you, to reel you out of your comfort zones. Advocacy filmmaking for me fails if it preaches to the choir. We aren't doing any favor by creating messages only we want to hear, or by alienating anyone who does not agree with us.