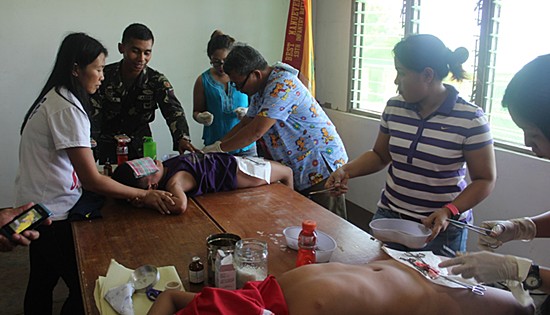 Dr. Noel Albelda, Municipal Health Officer of Kananga, Leyte and his team is shown here performing circumcision at 19th Infantry Battalion's Sandiwa Hall in Brgy. Aguiting, Kananga, Leyte on May 14, 2016.
Kananga holds Operation Tuli inside Army camp
By JEROME P. CATORCE, 19IB, 8ID PA
May 15, 2016
KANANGA, Leyte – The Rural Health Unit (RHU) here chose an Army camp as venue of its Operation Tuli on Saturday, May 14, 2016.
For the first time, Dr. Noel Albelda, Municipal Health Officer and nine nurses performed circumcision to thirty young boys from ages 5-10 at the headquarters of Philippine Army's 19th Infantry Battalion in Brgy. Aguiting, Kananga, Leyte.
Lt. Col. Roberto Sarmiento, Commanding Officer commended Kananga's free circumcision program which benefitted indigent residents of the community near the 19th Infantry Battalion's camp.
"This operation tuli is a big help to the families' budget, especially now that enrollment of classes is fast approaching", Lt. Col. Sarmiento said.
Parents took the opportunity of bringing their sons to avail of the free circumcision than paying at least P600.00 circumcision charge in some private clinics.
On the other hand, Public Health Nurse Joseph Oliverio said that Kananga Rural Health Unit has already circumcised around 700 young boys since March this year.
He furthered that residents of Kananga may still avail of free circumcision at the Rural Health Unit from Monday to Friday, 1:00 to 5:00 o'clock in the afternoon.