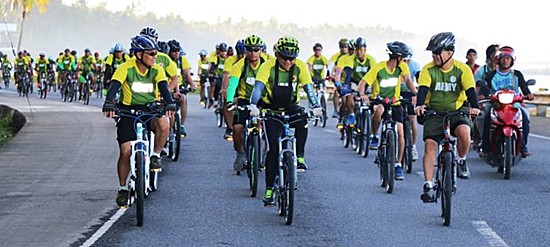 8ID commander MGen Jet Velarmino, Asst. Division commander; Col Cesar Idio, 801st Brigade commander; Col. Perfecto Rimando lead the contingent of mountain bikers and riders from Sta. Margarita to Calbayog City, Samar during the "Bike for PCOS" on May 7, 2016.
Stormtroopers "Bike for Peaceful, Credible, Orderly, Safe Elections" in Eastern Visayas
By DPAO, 8ID PA
May 8, 2016
CAMP VICENTE LUKBAN, Catbalogan City – The 8th Infantry (Stoormtroopers) Division, Philippine Army conducts a 10-km "Bike for Peaceful, Credible, Orderly and Safe (PCOS) elections in Sta. Margarita Town Hall to Calbayog City Plaza, Samar on 07 May 2016, Saturday.
Maj. Gen. Jet B Velarmino, Commander, 8ID kick-off this peace initiative to promote a clean automated national and local elections 2016. This historic "Bike for PCOS" elections was attended by 150 mountain bikers that came from the different areas of Samar and was also participated by Engr. Wilfredo Bordios, Representative from the Commission on Election (COMELEC); Col Perfecto M Rimando, 801st Brigade Commander; Col Mario S Lacurom, 803rd Brigade Commander; Director Edgar L Posadas, Office of Civil Defense-8; Rev. Fr. Richard Tan, Parish Pastoral Council for Responsive Voting (PPCRV), Diocese of Calbayog; Samar Mountain Bikers Association (SAMBA); Samar Off-Road Bikers Association (SORBA); Calbayog City Police Office; Philippine Coast Guard; Road Master Wheelers Club; and 8ID bikers.
The 8ID is steadfast in upholding our advocacy for the successful election through series of peace covenant signing, checkpoints and dialogues under the auspices of the Joint Regional Security Coordinating Committee – 8 (RJSCC-8) to address election concerns in the AOR.
Col. Rimando said that the Army forces in Samar are apolitical and sincere in upholding the laws to prevent threat groups from disturbing the electoral process and to undertake precautionary measures against private armed groups (PAGS) as well as advance people's rights to suffrage without intimidation.
Maj. Gen. Velarmino, ensured that all soldiers are well informed and knowledgeable on the AFP-PNP joint operational guidelines as deputized by the COMELEC.
"The Philippine Army remains to be the vanguard of peace will defend the citizenry in Eastern Visayas", Velarmino, added.