8ID joins the whole Christian nation in the observance of Lenten Season in Eastern Visayas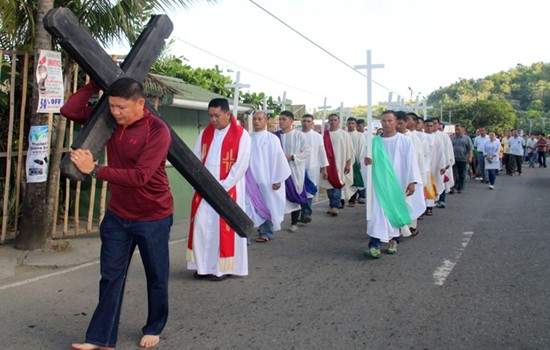 By DPAO, 8ID PA
March 29, 2016
CAMP VICENTE LUKBAN, Catbalogan City – The 8th Infantry (Stormtroopers) Division participates in the observance of Lenten season through various activities here, from March 20-27, 2016.
On the 20th day of March was Palm Sunday with a Holy Mass purposely to re-enact the triumphant entry of Jesus into Jerusalem held in front of Headquarters and Headquarters Service Battalion. A Maundy Thursday mass and Last Supper were also offered with Major Rey David A Loyola, Division Chaplain and the 12 apostles followed by a vigil of blessed Sacrament in Sto. Niño post chapel.
On Good Friday, a station of the cross was conducted around the camp headed by Maj.Gen. Jet B. Velarmino, 8ID Commander, to observe the Lord's death and veneration of the cross, whereas the Black Saturday also known as Holy Saturday is in commemoration of the time when Jesus laid in the tomb after his death which was celebrated through Easter Vigil Mass at the Command Chapel.
Prior to the Easter Sunday mass on the 27th of March 2016, the re-enactment of the 1st "Encounter" (Salubong) of Mother Dolorosa and the risen Christ was conducted at 4:30 a.m. at the Division Grandstand. This was followed by the ancient tradition of fun and frolics through Easter Egg Hunting for the children to celebrate Easter Sunday. It is a traditional symbol of fertility and rebirth in Christianity that symbolizes the empty tomb of Jesus and resurrection.
Subsequently, a breakfast in 8ID park was offered by Maj. Gen. Jet B Velarmino and Madam Imelda Velarmino together with the other officers, men and civilian employees of the Command.
Maj. Gen. Velarmino shared that it is the duty of every soldiers to be at service to the people especially in times when everyone is busy attending to their spiritual needs. "Let us choose the path of righteousness and love of country and people in Gods Way", Velarmino added.