10.3 million workers upset as value of daily salary fell by P97 a day nationwide due to inflation
By TUCP
March 20, 2016
QUEZON CITY – Amid the country's impressive Gross Domestic Product average growth rate of 6 percent last year, a combined 10.3 million workers were affected as the daily minimum wage levels nationwide fell by an average of P96.95 a day or P2,520 a month starting January this year due to inflation, the labor group Trade Union Congress of the Philippines-Nagkaisa (TUCP-Nagkaisa) said.
Quoting data from the National Wages and Productivity Commission (NWPC) data released February 12, the group said the real value of the P481 nominal daily minimum wage in the 17 cities and municipalities in Metro Manila, for example, is worth P364.39 a day beginning January this year. The nominal value fell by P116 a day or P3,016 a month.
"The lost value of the daily wage can buy them a kilo of imported, first class, deliciously fragrant rice and three variant of pagpag food for one good meal the entire family have not eaten for years. But if we look at the entire value lost in a month, it can cover for house rent, or water and electricity, or tuition fees," said TUCP spokesperson Alan Tanjusay.
Real wage are wage in terms of the amount of goods and services that can be bought. For example, the current capacity of daily nominal minimum wage of P250 in Autonomous Regions of Muslim Mindanao (ARMM) to buy goods and pay for services in the region is only P157.43. The nominal value fell by P92.57 a day or P2,406.82 a month.
The difference between wage and cost of goods and services is shown in the recent government survey showing a combined 10.348 million unemployed and underemployed workers dissatisfied with their salary because of the rising costs of services and the increasing prices of commodities reaching almost eight million, he said quoting recent data of the government's Labor Force Survey (LFS) released ten days ago.
The LFS according to the Philippine Statistics Authority (PSA) released on March 11, out of 67.153 million work force, there are 40.047 employed Filipinos and 7.879 million of which are underemployed while 2.469 million are jobless.
"The painful implication is that there are almost 8 million working Filipinos who do not progress because they cannot even afford the minimum standard daily cost of living (food & non-food needs) valued at P21.28 for each member of family of five. This is a typical example of a race to the bottom where the value of a day's labor can no longer meet the family needs," Tanjusay said.
He said the labor center projected the poverty threshold amount for the first quarter of 2016 to be at P9,576 per month for a family of five or P319.20 a person per month, P63.84 a person per day or P21.28 a person per day.
Comparing with the existing Metro Manila wage level, the real daily wage is equivalent to P9,474.14 a month. It's capacity to buy goods and services for a family is P315.80 every day or P63.16 per person a day or P21.00 a person per meal per day.
Fixed every three years by the National Economic and Development Authority (NEDA), Department of Trade and Industry (DTI) and the Food and Nutrition Research Institute (FNRI), the poverty threshold amount is a standard amount needed by a Filipino family of five in order to live economically and socially productive.
Based on the first semester of 2014 standard poverty threshold report announced by the PSA on March 6, 2015, a family of five needs at least P8,778 a month or P292.60 a day or P58.52 per person a day which is equivalent to P19.50 per member of the family for food (breakfast, lunch and dinner) and non-food needs.
The low value of wage, he added, is what drives thousands of workers every day to work abroad despite the social cost of family separation. Other reasons are the lack of employment opportunities, the jobs-skills mismatch and the government's passive enforcement of employers' compliance to minimum wage.
"We urge government to make growth more inclusive by equitably sharing our country's wealth by consistent enforcement of labor laws, stronger enforcement and regulation on prices of goods (food) and cost of services (water, electricity and transport fares), give more subsidies and cut taxes. We ask employers, on one hand, to pay it forward in sharing their profits by increasing motu propio the salary of their workers," Tanjusay said.
In 2012, The government's poverty threshold amount was pegged at P7,821 a month.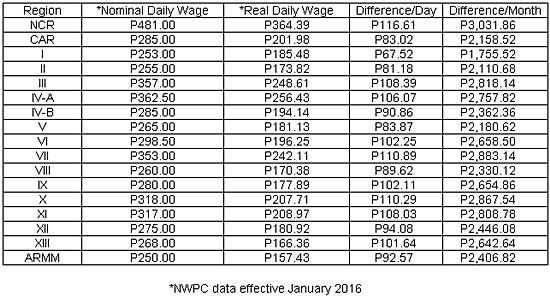 Tanjusay said the TUCP-Nagkaisa proposed to President Aquino in May last year a menu of short-term poverty-mitigating executive measures for minimum-waged earners cope with the rising inflation. These proposals includes a P2,000 monthly cash subsidy, income tax cut, unemployment insurance and return of government subsidy to mass transport trains MRT and LRT.
"However, none of these offered proposals were yet acted upon by the president. It looks like this race to the bottom wage problem will be passed on to the next elected president in July," he said.