WORLD NEWS
Sydney's ocean catwalk amazed
Jessica Minh Anh transformed Costa Luminosa's sun-deck into the world's newest runway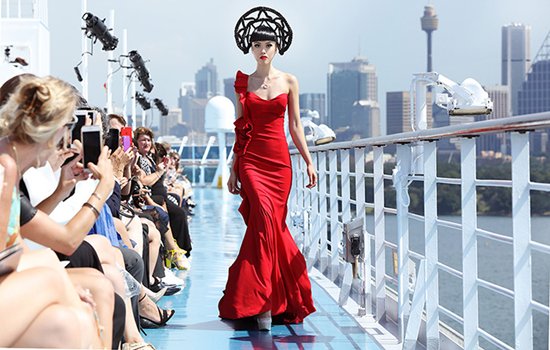 Press Release
March 15, 2016
SYDNEY – Global fashion sensation Jessica Minh Anh just added Sydney to her impressive portfolio of sky-high catwalks by transforming the sundeck of Costa Luminosa into an ocean runway. Featuring the Sydney Harbour Bridge and the famous Opera House as its backdrop, J Spring Fashion Show 2016 overtook all the modern fashion productions with a flawless combination of art, architecture, culture, and style.
The exclusive red-carpet event premiered nearly 100 haute couture and ready-to-wear dresses from Europe, Asia, New Zealand, and Australia. As Costa Luminosa was anchored offshore, models were catwalking in the middle of the ocean.
Opening the show with purity and lightness, Jessica Minh Anh appeared in an angelic multi-layered pink and white dress designed by Australia's very own brand Bergitta. The exotic beauty was followed by a stunning line-up of models in elegant and youthful pieces using French lace, floral prints, and delicate silk.
Adding sophistication and glamour, Pakistani talent Syeda Amera returned to Jessica Minh Anh's catwalk with an innovative collection featuring three-dimension embellishment, intricate sequins, and handcrafted embroideries. The eye-catching designs in gold and metallic celebrated supreme quality and advanced beading techniques.
Aiming to reinvent the concept of modern chic, Romanian fashion house Chotronette introduced a timeless collection with colourful floral details and complex embroideries. The vintage inspired dresses highlight individuality and authenticity.
Bringing the dramatic landscape of North Canterbury, New Zealand to the sun-deck catwalk, Beverley Riverina premiered an all-wool collection made from natural, sustainable materials. The creative designer led the ecological and environmental movement while showcasing chemical-free and un-dyed hand-knitted garments.
Next, Lebanese haute couturier Jad Ghandour inserted class and elegance onto Jessica Minh Anh's catwalk with a seductively refined collection. Using colour scheme varying from royal purple to light peach, each piece mixed original motifs with contemporary cuts and structured designs.
Closing the show with theatrical imagery, Rouba.G joined Jessica Minh Anh for the second time with her new "butterfly" collection. The light blue, beige, and white pieces at the start, which showed the primitivism of a caterpillar, were quickly replaced by the extravagant dresses in vibrant prints and dynamic colours. The breath-taking finale dress worn by Jessica Minh Anh was an impeccable blend of modern glamour and exquisite craftsmanship. The black and white floor-length design with unconventional cuts perfectly showed off Jessica Minh Anh's hourglass figure.
To compliment Jessica Minh Anh's extraordinary vision, Lancôme and Redken created futuristic looks with an edgy twist. What stood out the most was Jessica's architectural hairstyle in the shape of the Sydney Harbour Bridge, which redefined originality and modernization. The show was supported by L'Oreal Australia, Sydney Harbour Foreshore Authority, InterContinental Sydney, The Royal Botanic Garden Sydney, Captain Cook Cruises, RENTaCAM, Bill Hicks Jewellery, Affinity Diamonds, Grain & Co, Big Banner, and SimpleThings Press.
With J Spring Fashion Show 2016 came to a triumphant end, one may wonder where Jessica Minh Anh will go next. The renowned model and entrepreneur, who has continuously made the world her runway, has already started planning her next phenomenon in the United States. Having the Grand Canyon Skywalk and One World Trade Center success under her belt, Jessica Minh Anh is set to provide the world with even more surprises in the summer of2016. We shall all wait with excitement. For more details, visit www.jmodelmanagement.co.uk and www.jessicaminhanh.tumblr.com.