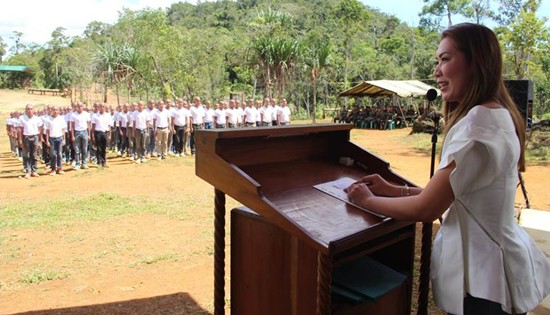 Samar governor Sharee Ann Tan-Delos Santos while delivering her message during the Opening Ceremony of Candidate Soldier Classes - 419 & 420 - 2016 at 8ID Jungle Base, Brgy. Fatima, Hinabangan, Samar on June 1, 2016.
246 new Candidate Soldiers of 8ID took allegiance to Philippine Flag
By DPAO, 8ID PA
June 2, 2016
CAMP LUKBAN, Catbalogan, Samar – Two Hundred Forty-Six (246) Candidate Soldiers took an impressive oath taking during the opening ceremony of PACSC Classes 419 & 420 - 2016 at the Jungle Base of 8th Infantry (Stormtroopers) Division, Brgy Fatima, Hinabangan Samar on June 1, 2016.
The candidates, after passing through competitive Physical, Neurological, Psychological examinations, will undergo training which will prepare them for future role of performing duties in the Philippine Army.
The ceremony was graced by Hon. Sharee Ann Tan-Delos Santos, Governor of Samar, as the Guest of Honor and Speaker with Maj. Gen. Jet B Velarmino AFP, Commander, 8ID, as the military host. Col. Cesar M Idio, Assistant Division Commander, 8ID, Division Staffs and parents of the new breed of soldiers were also present at the said occasion.
Gov. Sharee Ann Tan-Delos Santos mentioned in her speech, "The challenge is just about to begin for these chosen few and valiant men we have with us today. I am also honored to be with the parents, relatives and friends of these Candidate Soldiers for with their support, they have entrusted the lives of their sons to be trained by the Stormtroopers and transform them into men, equipped with necessary skills in making them capable of defending and serving the people of Eastern Visayas".
Further she expressed her gratitude to Maj. Gen. Jet B Velarmino for the unwavering commitment in pursuit to peace and development in the province of Samar.
Maj. Gen. Jet B Velarmino AFP, in his message to the trainees, "A career in the military is unique, challenging and physically demanding." He subsequently thanked Gov. Tan-Delos Santos for being an active partner to the 8ID's initiatives and highly regarded as part of the team 8ID.
"Your Philippine Army at all times adheres on its mandate as a human rights advocate, peace builders and partner in nation building in the Region-8," Maj. Gen. Velarmino added.