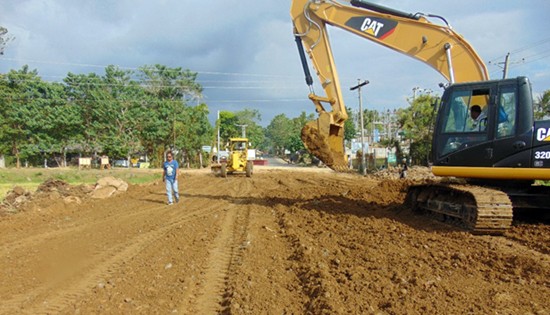 On-going Compaction of Embankment Material for the Road Opening/Concreting of Biliran Diversion Road Project. As of June 30, 2016, it has an accomplishment of 35% with a contract cost of P43.0 Million. The said project traverses a rice field covering 12,000 sqm of agricultural land.
Biliran DEO's first diversion road
By ROSE B. ROSETE
July 23, 2016
BILIRAN – Biliran Diversion Road was originally proposed by the previous Acting Chief of Planning & Design Section, Engr. Reynaldo P. Peñaflor who lives in Biliran, Biliran.
Being a native of the said Municipality, he knows the problems encountered by the traveling along the National Road traversing within Biliran proper. Having besieged by traffic problems, the Sangguniang Bayan of the Municipality of Biliran together with their former Mayor, Hon. Leandro B. Enage unanimously passed a resolution for the Construction of Diversion Road in the Municipality of Biliran in order to relieve traffic congestion and to fast track the development of the area. The said resolution was forwarded to the Sangguniang Panlalawigan of Biliran Province for their consideration. The said resolution was unanimously approved by the Sangguniang Panlalawigan of Biliran Province.
In their letter dated June, 2013 signed by the Hon. Mayor Leandro B. Enage, the former Mayor of Biliran, Biliran, The Department of Public Works and Highways-Biliran DEO was requested to conduct Preliminary & Detailed Engineering activities in order to determine the viability of the project, its cost and possible funding.
After survey works, it was determined that the proposed road will traverse a rice field covering 12,000 sqm of agricultural land. It start at the junction of Leyte-Biliran Road (S0001BR) and Biliran Circumferential Road (S00002BR and S00010BR)) and ends at another point along Biliran Circumferential Road going to Naval, the capital town of Biliran Province.
The population to be served by the road project ranges from 90,000 to 135,000 with average income of P10,000 to P30,000 per month.
After all the required documents were submitted to DPWH Head Office, the proposed project was finally considered under the FY 2016 GAA. At present, the project is now on-going with one problem with a landowner who wanted to be paid with higher land value outside the zonal valuation or market value of the Province.
The completion of the project will decongest the currently utilized National Road which is within the Municipality of Biliran. In addition, the future change in transport condition will lure tourist to visit Tourist sites in Biliran Province which is endowed with natural tourist attractions. Further, commercial activity not only in the Municipality of Biliran but in Biliran Province as a whole, like establishment of new shops and other income generating enterprise.
Indeed, Biliran DEO is fortunate to be allotted with funds for Biliran Diversion Road, the first in the Province.