WORLD NEWS
New York skyline as backdrop for iconic sky-high ocean catwalk
Jessica Minh Anh to complete her "catwalk on water" series with a bang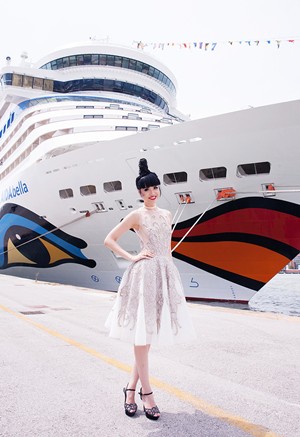 Press Release
August 11, 2016
PARIS – Queen of the catwalk, Jessica Minh Anh, will transform the sky-high sundeck of the luxurious German cruise ship, AIDAluna, into the world's newest runway on 23 October 2016. Overlooking New York's famous skyline, the highly anticipated J Autumn Fashion Show 2016 will strengthen Jessica's position as the most innovative catwalk producer of her generation.
Following the phenomenal success of Sydney Ocean Catwalk and Seine River Floating Runway earlier this year, J Autumn Fashion Show 2016 will premier unique haute couture, pret-a-couture, pret-a-porte, and diamond collection from 5 continents. A master at "combining art, architecture, culture, and fashion" (ABC New York), Jessica Minh Anh is ready to introduce the beauty of modern fashion and New York in a new light. The supermodel and entrepreneur has worked with major brands including Montblanc, Citroën, Lancôme, Marriot, Graff Diamonds, Paul Costelloe, and Addy van den Krommenacker, while promoting young talents including Tony Ward, Paolo Sebastian, and Tex Saverio.
"AIDA operates the world's most state-of-the-art fleet and represents premium quality, creativity, and the future, just as Jessica does in fashion. We are very honoured to host Jessica Minh Anh's Autumn Fashion Show on board of AIDAluna against the Big Apple's iconic skyline." said Felix Eichhorn, President AIDA Cruises.
Last Sunday, Jessica Minh Anh visited the AIDA ship in Venice, Italy to identify the exact catwalk, backstage, and VIP area of J Autumn Fashion Show 2016. Accompanied by the captain and general manager, Jessica learnt about AIDA's technical, operational, and PR activities, while exploring exclusive areas such as the bridge.
The official pre-show photo and video shoot will take place on the sundeck of AIDAluna in New York on 10 September 2016. Having previously produced some of the world's most impressive fashion shots, the promotional photos by Jessica Minh Anh's creative team are expected to be extraordinary. For more information, visit www.jmodelmanagement.co.uk and follow Jessica Minh Anh on Tumblr, Instagram, and Facebook.