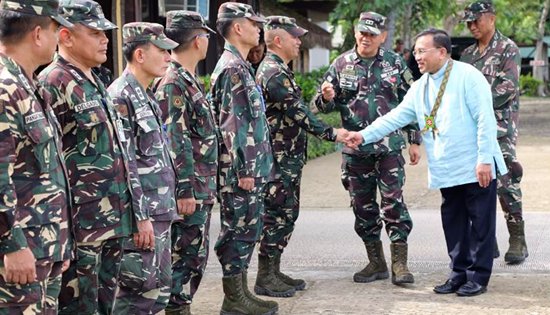 Bishop of Calbayog Most Rev. Isabelo Abarquez warmly welcomed by MGen. Jet Velarmino and the Division Staff during his arrival as Guest of Honor and Speaker on the 8ID's 28th Founding Anniversary celebration on August 1, 2016.
8ID celebrates its 28th Founding Anniversary
By DPAO, 8ID PA
August 9, 2016
CAMP LUKBAN, Catbalogan City – The 8th Infantry (Stormtroopers) Division, Philippine Army, marked its 28th Founding Anniversary with the theme, "8ID at Sambayanan, Dalawampu't Walong Taon Kaagapay ng Mamamayang Tungo sa Kapayapaan at Kaunlaran ng Sambayanan" at Headquarters in Camp General Vicente Lukban, Brgy. Maulong, Catbalogan City, Samar on August 1, 2016.
The kick-off of the 28th Founding Anniversary started with a series of events such as: Trail Bike Challenge; Badminton Challenge; Squad Challenge; Tactical Challenge 2; Ethnic Variety Show; Wreath Laying Ceremony; Awarding of Medals and Plaque of Recognition to the soldiers and civilian stakeholders, including formal dinner with military officers and senior NCOs to include LGUs, CSOs and Non-Government Agencies who supported the 8th ID in attaining lasting peace in the Region.
The event was highlighted with a wreath-laying ceremony led by Most Rev. Isabelo C Abarquez D.D, Bishop, Calbayog City and Major General Jet B. Velarmino, Commander 8ID, in honor to the fallen comrade-in-arms and in recognition of the soldiers' heroism and ultimate sacrifice in pursuit of peace in Region VIII. The ceremony was attended and witnessed by the soldiers' loved ones, officers, soldiers and civilian employees of the Command.
Another highlight of the activities was the awarding to deserving personnel who have shown meritorious achievement in both combat and non-combat role that significantly contributed to the overall success of the Command's mission.
In addition, civilian stakeholders, who contributed to the accomplishments of the Command mission, namely: Hon. Ronald Aquino of Calbayog City; Mr. Harry Rhumor, Mr. Vince Yulo, Mr. Alvin Lao Hoo, Ms. Christine Caidic of Multi Sector Advisory Board, Director Edgar Posadas of Office of the Civil Defense Region 8, Shintaro Palermo, Sherlock Codilla, Senior Manager for security of the Philippine Associated Smelting and Refinery (PASAR) were also awarded with plaques of recognition during the event.
Gracing the 28th Founding Anniversary of 8ID were the presence of Most Rev. Isabelo C Abarquez, Bishop Diocese of Calbayog City as the Guest of Honor and Speaker; Major General Jet B. Velarmino, Commander 8ID; Hon. Sharee Ann Tan- Delos Santos, Governor of Samar represented by Hon. Jimboy T. Tan, Vice Governor of Samar; Brigadier General Herminigildo C. Aquino, former 803rd Brigade Commander; Brigadier General Leoncio A. Cirunay, former Commander, 801st Infantry Brigade and Brigadier General Dinoh A. Dolina, former Commander, 802nd Infantry Brigade and media personalities.
Major General Velarmino, said that the Command has accomplished much in performing its mandate task of protecting the people and the communities, because of the soldiers for peace.
On the other hand, Most Rev. Bishop Abarquez said, "It is my prayer that our Philippine Army will continue to serve with honor and integrity for God, Country and people."
Your Philippine Army will continue to uphold its unwavering commitment as the protector and servant of the people not only in Eastern Visayas but to the Filipino as a whole.