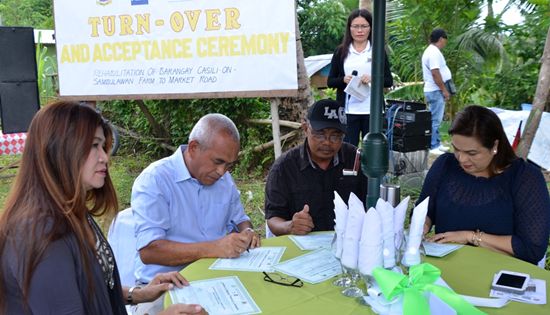 (L-R) Barangay Sambulawan Chairwoman Tessie Mayot, Leyte Provincial Agrarian Reform Program Officer Renato Badilla, Casili-on Barangay Chairman Danilo Mates and Villaba Mayor Juliet Larrazabal sign the turnover and acceptance certificate.
(Jose Alsmith L. Soria)
DAR fulfills dream of Villaba villagers
By JOSE ALSMITH L. SORIA
August 1, 2016
VILLABA, Leyte – "This is a dream come true!" thus said Barangay Sambulawan Chairwoman Tessie Mayot during the turnover rites of the rehabilitated farm-to-market road in her village leading to the national highway.
On Friday, Leyte Provincial Agrarian Reform Program Officer-II (PARPO-II) Renato Badilla turned over to the local government unit (LGU) the 3.42-kilometer rehabilitated road in Barangay Casili-on going to Barangay Sambulawan in this town.
Mayor Juliet Larrazabal said that with the rehabilitation of this road, farmers in this area will now find it easy transporting their harvests to the town proper for trading.
But to Barangay Chairwoman Mayot who was elated with the completion of this project, stressed the comfort and safe travel of her constituents and those from Barangays San Francisco, Capiñahan, New Balanac and Cahigan who are likewise passing this way, aside from the easy transportation of their products, now that this road has been improved.
She narrated the discomfort and risk they experienced since her childhood days when passing thru the spillway during rainy days. According to her water overflows in the spillway that they had to lift their skirts not to get wet.
They dreamed this road would be repaired but never thought it would be realized until the Department of Agrarian Reform (DAR) thru the second phase of the Agrarian Reform Community Project (ARCP-II) took responsibility of it.
DAR-8 Regional Director Sheila Enciso explained that Barangays Casili-on and Sambulawan are part of the Villaba agrarian reform community (ARC) with 2,178 agrarian reform beneficiaries (ARBs) which qualified them for this project.
Aside from the ARBs, more than 3,000 population from six barangays are estimated to benefit too from this project implemented under the Program Beneficiaries Development component of the Comprehensive Agrarian Reform Program (CARP), she added.
Badilla meanwhile disclosed that the total cost of this project is P11-million with P4.7-million loaned from the Asian Development Bank (ADB), while P6.3-million was shouldered by the LGU.
He emphasized to the recipient LGU the latter's responsibility in the maintenance of the said project. According to him, if properly maintained in good condition within 10 years this project will be converted into a grant.