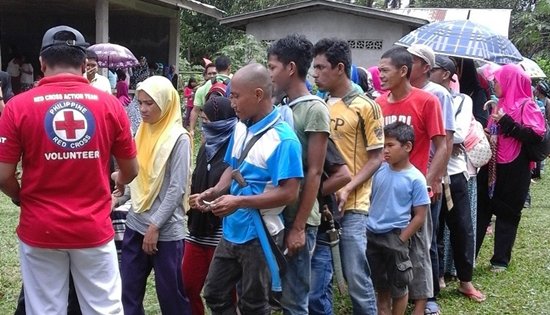 People displaced by the armed fighting in Basilan Province in July line up to receive essential household items from the ICRC and the Philippine Red Cross.
(photo by PRC)
Armed fighting in Basilan displaces 17,000 people
By ICRC
July 29, 2016
MANILA – Armed fighting between government security forces and non-state armed groups since the first week of July has caused the displacement of around 3,400 families in Basilan Province, southern Philippines.
The affected families in Tipo-Tipo, Al-Barka and Ungkaya Pukan municipalities have sought refuge with their relatives after shelling and air strikes occurred on an almost daily basis over the past three weeks. Casualties and injured fighters were reported on both sides, while a few civilians were also wounded as a consequence of the clashes.
"The security situation in Basilan is precarious. We are concerned for the civilians as we expect clashes to continue in the coming weeks," said Yann Fridez, head of the International Committee of the Red Cross (ICRC) sub-delegation in Mindanao.
"We urge all parties to the fighting to exercise utmost precaution to minimize the impact or damage to civilian communities. We also ask them to spare civilian structures such as hospitals, schools and houses, and facilities that are essential for their daily lives," he stressed.
To complement the assistance provided by the authorities, the ICRC, with the Philippine Red Cross (PRC), distributed essential household items to more than 17,000 displaced people in the three municipalities. The items distributed by the PRC Basilan chapter on July 27-28 included hygiene kits, blankets, towels, jerry cans, mosquito nets and sleeping mats.
The ICRC also distributed dressing kits and medical supplies including drugs and anti-tetanus vaccines to enhance the capacity of rural health units in these three municipalities to treat sick and wounded people. Already in April, the ICRC and the Department of Health-Health Emergency Management Bureau had conducted Basic Life Support training for 168 health staff in Basilan and Sulu provinces.
The ICRC is a neutral, impartial and independent humanitarian organization whose mandate is to protect and assist people affected by armed conflict and other situations of violence. It has had a presence in the Philippines for more than 70 years and a permanent presence in Mindanao since 1982.