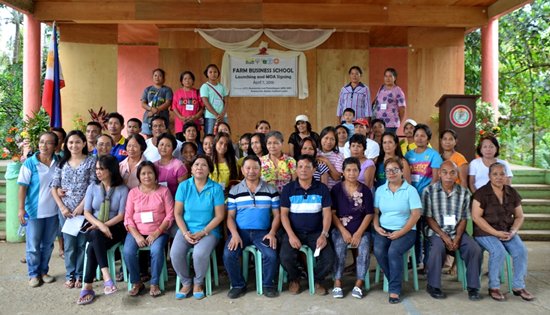 Members of the Buenavista-Pamahawan ARBs Multi-Purpose Cooperative who are going to attend the Farm Business School pose with DAR officials and others involved in the implementation during the launching of the said project.
(Jose Alsmith L. Soria)
DAR launches second farm business school in EV
By JOSE ALSMITH L. SORIA
April 28, 2016
BONTOC, Southern Leyte – As the Department of Agrarian Reform (DAR) prepares the agrarian reform beneficiary organizations (ARBOs) to be globally competitive, the former launched in Barangay Buenavista in this town early this month the second farm business school in Eastern Visayas.
DAR Regional Director Sheila Enciso disclosed that this project, in partnership with the Department of Agriculture thru the Agricultural Training Institute, the local government unit and the concerned ARBO, is among the various support services extended to agrarian reform beneficiaries (ARBs) under the Comprehensive Agrarian Reform Program (CARP) aimed not only at increasing farmer's income, but is expected to contribute also to national food security.
Enciso said, Buenavista-Pamahawan ARBs Multi-Purpose Cooperative is fortunate to be included in the 15 ARBOs identified nationwide to be trained on Farm business school this year.
A funding of P150,000 was provided to each of the 15 identified sites for the conduct of the 25 sessions, she added.
Meanwhile, Program Beneficiaries Development Division (PBDD) chief, Melecia Ong, explained during the said occasion that the "school" is an on-site training where the farmers will not only learn about high value crops production, but marketing strategies as well.
In farm business school, the farmers are being groomed to be agricultural entrepreneurs, she stressed.
Forty members of the Buenavista-Pamahawan ARBs Multi-Purpose Cooperative have been identified to participate in this training that will run for 25 sessions wherein the participants and the facilitators agreed to meet every Thursday.
During the launching, authorized representatives from the DAR, local government unit, barangay council and the concerned ARBO signed a memorandum of agreement in support of this project.
Meanwhile, the recipient of the first farm business school in Region-8 that was implemented last year, the Hantag Farmers Multi-Purpose Cooperative, Inc. in Barangay Hantag in Maasin City also from this province is now waiting for the El Niño to end before they start planting anew.