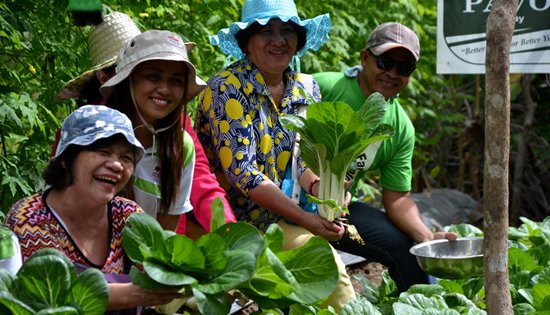 Officials from DAR and East-West Seed Philippines harvest organically grown pechay at the farm of Jose Dautil (right) in Barangay Hinabay, Inopacan, Leyte.
(Jose Alsmith L. Soria)
SPECIAL REPORT
Hello veggies, goodbye abaca!
By JOSE ALSMITH L. SORIA
April 19, 2016
TACLOBAN CITY – When we reached Barangay Hinabay, we were led to a vegetable farm of Jose Dautil, 54, that was ready for harvest. We picked some kilos of sweet pepper, and pechay, and paid him the corresponding price. Then we moved to Barangay Cabulisan to see more vegetables in other farms. These adjacent villages nestled on top of a mountain in Inopacan, Leyte are now known for organic vegetables.
Farmers here are now seriously pursuing high value organic vegetable production after the Department of Agrarian Reform (DAR) subjected last year the members of two agrarian reform beneficiary organizations (ARBOs) to a five-month training on high value crops production using the natural farming system.
Being covered by the second phase of the Agrarian Reform Communities Project (ARCP-II), DAR tapped the East-West Seed Philippines for the conduct of the said training under the Agricultural Enterprise Development to the Hinabay Upland Farmers Association (HUFA) and the Cabulisan Multi-Purpose Upland Farmers Association (CAMUFA).
When asked what they like about organic vegetable production, Marissa Bisnar, 38, an agrarian reform beneficiary (ARB) said the products are sold at a higher price than those grown the traditional way. Even if they are a little bit expensive, more consumers prefer to buy organic vegetables, she added.
From her last harvest, Marissa shared that she earned P8,350 from her four plots of sweet pepper, four plots of tomato and ampalaya, which became additional income for her family.
Cristita Abenoja, a merchant from Barangay Cabulisan who buys the farmers' harvests and sell them at the town's market disclosed that her products are easily sold out because consumers opt for organic vegetables.
Organic farming now becomes the trade mark of these two barangays. When buyers learn that the vegetables come from the said barangays, they already know that it's organic, Abenoja said. Further, "my customers increased," she added, because the information had spread to nearby towns like Hindang, Bato and Baybay City.
For that, these farmers living on top of the mountain, 18 kilometers away from the town proper are thankful they were taught organic farming.
Abaca used to be the major crop of the farmers here. But because of the bunchy top disease, farmers ceased planting abaca, and shifted to vegetable production in 2004. Last year, with the joint effort of DAR and East-West Seed Philippines, the natural farming system was introduced and changed the lifestyle of the farmers here.
With this method the farmers no longer sniff chemicals when spraying pesticides, according to CAMAFU president Edelito Merrano Sr., 51. Likewise, they can save more because they no longer buy fertilizers and pesticides, he added.
Instead, they use the vermicast their association is producing. Vermi-culture and vermi-composting have been introduced to them by DAR in 2015 as alternative sources of livelihood.
CAMUFA was among the 100 ARB organizations provided with a shredder and 30 kilos of African night crawlers last year.
At the moment CAMUFA is also selling vermicast at P350 per sack of 50 kilos. While African night crawlers are being sold by the association at P500 per kilo.