DPWH-Samar I culminates National Women's Month Celebration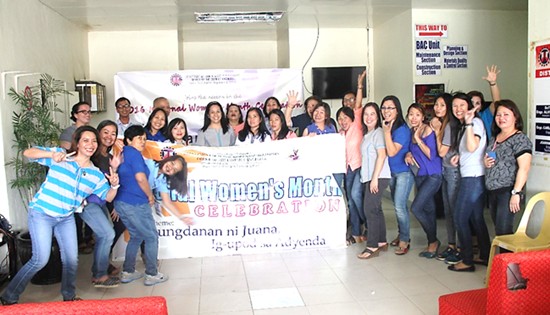 By DONNA C. DEBUTON
April 12, 2016
CALBAYOG CITY – This year's National Women's Month Celebration dubbed "Kapakananni Juana, Isamasa Agenda" unites the female employees of the Department of Public Works and Highways (DPWH)- Samar First District Engineering Office (SFDEO) as they actively join the culminating activities facilitated by the management at the SFDEO premises on March 31, 2016.
In a message delivered by District Engineer Virgilio Eduarte, he conveyed that during the administration of former President Gloria Macapagal-Arroyo, the department is being dominated by men. But nowadays, some of the DPWH Officials – Undersecretaries and Assistant Secretary, are composed of women, promoting women empowerment and recognizing feminine skills and expertise.
Assistant District Engineer Alvin Ignacio, in his speech, cited the biblical emergence of a woman who was taken from the rib of a man. "A man and a woman is equal. Behind the success of a man is a woman. Equal treatment between men and women is more evident these days thereby releasing women from cultural bondage." ADE Ignacio added.
Ms. Ma. Nenita Gomez, Chief Administrative Officer, DPWH-SFDEO, explained that the observance of International Women's Day was attributed to the tragic March 25 Triangle Shirtwaist Factory fire incident in New York City in the early 20th century that took the lives of 140 working women due to inhumane working conditions and other unfair labor practices leading to concerted protests, rally and demonstrations of women organizations. In the Philippines, this celebration is being observed in cognizance with Republic Act 6949, series of 1990, An Act to Declare March 8 of every year as a Working Special Holiday to be known as National Women's Day.
The culmination program gave chance to the District's Gender and Development (GAD) Focal Person Engr. Roster Andaya and Assistant Focal Person Architect Melissa Ignacio to express their stand on the equal rights and privileges of men and women today.
Right after the short program, free medical services, with the participation and assistance of the medical team of the Local Government of Calbayog, like assessment of blood pressure and glucose and anti-pneumonia vaccines, and free beauty wellness services that include facial threading, haircut, foot spa, manicure & pedicure and body massage are made available to the men and women employees of the District Office duly sponsored by the Philippine Institute of Civil Engineers (PICE) Calbayog Chapter headed by DE Eduarte.
The whole celebration is a tribute to women employees as the main celebrators of the event who give their unmeasurable extent of service to the office.