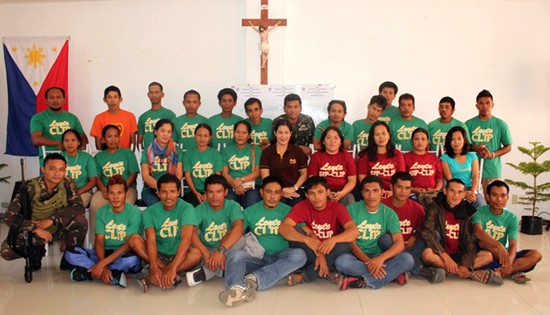 A photo opportunity with former rebels, member of the 19th Infantry Battalion and Ms. Gwyndalynn Malate, the Focal Person on Comprehensive Local Integration Program (CLIP).
Leyte CLIP evaluates 30 ex-rebels
By JEROME P. CATORCE, 19IB PA
April 8, 2016
PALO, Leyte – Thirty former rebels were gathered for an evaluation conference at this town's Tierra de Milagros Resort in Brgy. Arado on Wednesday, April 6.
Dubbed as "Training Workshop and Evaluation Conference for Former Rebels", the two-day event was designed to monitor and evaluate the status of former rebels from the province of Leyte who were registered under the Social Integration Program (SIP) and Comprehensive Local Integration Program (CLIP).
The conference underscores the need for additional livelihood assistance and other issues and concerns of the clienteles who surfaced from the underground movement of the New People's Army (NPA) from year 2008 onwards.
During the event, the Philippine Army's 19th Infantry Battalion based in Brgy. Aguiting, Kananga, Leyte sent two (2) Civil Military Operations (CMO) specialists to assist the former rebels in coming up with their own livelihood project proposals.
The CMO Specialists also conducted consultative sessions to former rebels regarding personal security and other issues.
On the other hand, Ms. Gwyndalynn Malate, Focal Person on Leyte Comprehensive Local Integration Program (CLIP) said the conference was part of the provincial government's ongoing effort to totally reintegrate the former rebels in the community.
Malate disclosed that future surrenderers will already be covered with the "Revised Guidelines for the Implementation of Comprehensive Local Integration Program (CLIP)" or the Joint Memorandum Circular 2016-02 dated March 2, 2016 which includes both the combatants and members of the NPA's Militia ng Bayan (MB) as beneficiaries.
With the same Joint Memorandum Circular, the provincial government will be giving away P10,000 basic assistance and another P25,000 for the firearms remuneration to the surrender. On the other hand, the national government allocates P15,000 immediate assistance, P50,000 livelihood financial assistance and another P50,000 if an NPA rebel surrenders with high powered firearm.