KBP, DILG lead Eastern Visayas Oplan Broadcastreeing 2019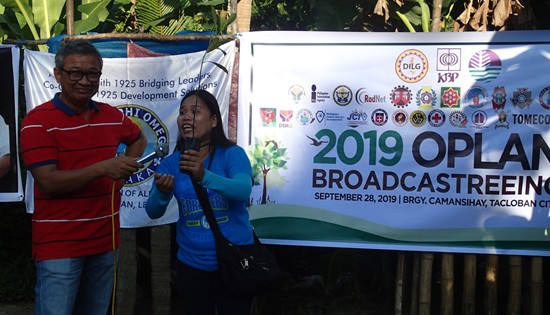 By MYLES JOSEPH E. COLASITO
September 28, 2019
TACLOBAN CITY – About 1,300 seedlings were planted by an estimated 600 volunteers led by the Kapisanan ng mga Brodkaster ng Pilipinas (KBP) and the Department of the Interior and Local Government (DILG) in the 2019 Oplan BroadcasTreeing Project held on September 28, 2019 in Barangay 98, Camansihay, Tacloban City.
The level and quality of involvement of participants was an improvement from the previous years, remarked Forester Jennifer Lamoste of the Community Environment and Natural Resources Office (CENRO) in Palo, Leyte. "The activity this year was participated by more sectors and many closely followed the instructions on how to plant the seedlings properly," she said.
The seedlings consisted of 1,000 Yakal, Bayok and Bunglas varieties from DENR Regional Office, 200 similar hardwood seedlings from CENRO Palo and 100 Pili seedlings from Department of Agriculture Regional Office.
A short program preceded the tree planting to ensure that participants understood and appreciated the importance of ensuring that the seedlings would survive. Punong Barangay Alejandro Reataza Jr. in his welcome remarks thanked participants for helping populate the hilly forest in their barangay.
On the other hand, the messages from DILG-8 Regional Director Artemio Cañeja, KBP Eastern Visayas Chairman Danilo Requiez, DMO III Alexander Casco (representing DENR Regional Director Atty. Crizaldy Barcelo) and Camansihay Upland Developers Association (CUDA) President Adam Esmerez centered on the need for sustained aftercare as part of the shift toward tree growing.
KBP Member stations that were represented include DYDR/PRTV 12 Tacloban; DYVL Aksyon Radyo; RMN Tacloban; Bombo Radyo Tacloban; DYTM Love Radio; DYCJ One FM; Magik FM; IBC-6/DYMP; DYFE FM; ABS-CBN Channel 2 Tacloban and MOR Tacloban.
Groups which joined this year's Oplan Broadcastreeing included the Philippine National Police Regional Office; Tacloban City Police Office; DENR Regional and CENRO-Palo offices; DILG Region 8; Department of Agriculture; 93rd Infantry Battalion and Army 546th Engineering Construction Battalion both under the 8th Infantry Division of the Philippine Army; Police officers undergoing the Officers Basic Course of the Philippine Public Safety College; Philippine Information Agency; Bureau of Fire Protection; Junior Jaycees; Tau Gamma Phi; University of the Philippines Runggiyan; Alpha Phi Omega; Philippine Red Cross; barangay officials and residents of Barangay 98 Camansihay, Tacloban; Leyte Province; CUDA; TACRU; Leo Club; Kilusang Pagbabago Tacloban; RADNET 5; Tacloban City Government and Alpha Mu Omega.
Oplan Broadcastreeing owes its start to a 2011 Memorandum of Agreement between KBP and DILG to support the National Greening Program. Since then, over 36,000 trees have been planted in Eastern Visayas through the activity. Oplan Broadcastreeing has been held annually in the region except in 2014, the year after Typhoon Yolanda struck.