12 new inspectors to augment DOLE RO-8 workforce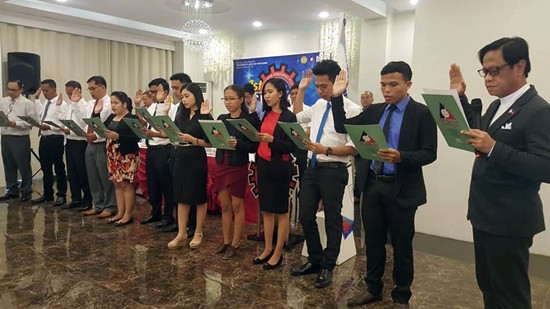 By NORMA RAE S. COSTIMIANO
September 26, 2019
TACLOBAN CITY – As addition to the workforce of DOLE Regional Office VIII, twelve (12) new labor inspectors took their oath before Regional Director Yahya A. Centi last September 18, 2019 at Costa Brava Hotel, San Jose, this city.
Director Centi warmly welcomed all the new inspectors and introduced them to the members of the Tripartite Industrial Peace Council as the oath-taking ceremony took place during the 1st TIPC Summit.
"As your Regional Director, I'd like to welcome you to DOLE RO VIII. Your functions as inspectors will be very crucial to this organization and I am hoping that you will all do your best to assist us in meeting our targets and objectives", said Director Centi.
The new inspectors were hired as contractual employees of the agency and are tasked to conduct inspection on establishments in Eastern Visayas employing foreign nationals as one of the President's marching order to DOLE.
Among the new inspectors, nine (9) were appointed as Labor and Employment Officer III (LEO III) while the remaining three (3) as Labor and Employment Officer II (LEO II).
In order to capacitate the newly-hired inspectors to perform their assigned tasks and responsibilities effectively, they all attended the "Two-Day Basic Course for Labor Inspectors Assigned to Inspect Workplaces Employing Foreign Nationals" held at Palm Grass, The Heritage Hotel, Cebu City last 23-24 September 2019.
Labor Inspection is one of DOLE's flagship program which aims to further strengthen the implementation of the visitorial and enforcement powers under the Labor Code, as renumbered, towards securing a higher level of compliance with labor laws and standards, and ensuring continuity and sustainability of compliance at workplaces.