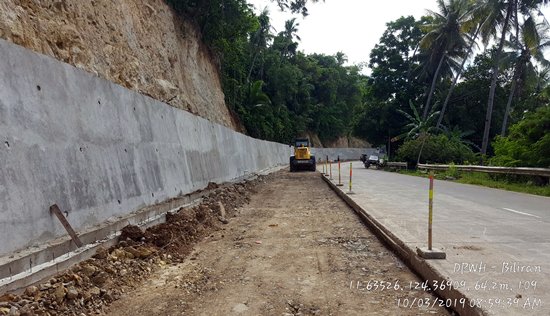 On-going compaction for the rehabilitation of national roads with slips, slope collapse, and landslide project (K1036+520-K1037+178 )at Brgy. Pili-Talahid, Almeria, Biliran is on-going with 49.55% as of September 30, 2019. The project entails the construction of 2,066.0 square meters reinforced concrete retaining wall with drainage canal on two sections located at Brgy. Sabang, Naval, Biliran and Brgy. Pili-Brgy. Talahid, Almeria, Biliran along Biliran Circumferential Road with inclusion of concreting of one lane pavement and road shoulders with a length of 681.00 meters.
DPWH-Biliran DEO's 2019 infra projects posts 41.50% on 3rd quarter
By DPWH-Biliran
October 8, 2019
NAVAL, Biliran – The Department of Public Works and Highways (DPWH) Biliran District Engineering Office (DEO) has shown substantial progress on its 2019 project implementation on the 3rd quarter of the year.
David P. Adongay Jr., District Engineer said that from 25.29% accomplishment in the month of August, Biliran DEO has now accomplished 41.50% as of September 30, 2019.
"This is an increase of 16.21% from the previous month," he said.
Adongay reported that out of the 92 projects for this year's implementation, 60 are now on-going, 22 are completed while 10 are soon to be started.
For the month of September, DPWH-Biliran DEO has completed 10 projects as scheduled.
Recently completed projects include the construction of seawalls at Brgy. Acaban in Culaba town worth P1.9M and at Brgy. Inasuyan in Kawayan town worth P970,200.00.
Three barangay road concreting projects were also completed at Sitio Patag, Brgy. Salangi and at Brgy. Caucab, both in Almeria town and one at Brgy. Capiñahan in Naval town with an amount of P1.9M each.
The district office has also completed one senior citizen building (completion) at Brgy. Salangi in Almeria town amounting to P970,000.00.
Relative to flood mitigation projects, one flood control under local infrastructure program was completed at Brgy. Julita in Biliran town worth P1.95M and one drainage construction at Pob. Almeria, Biliran worth P973,520.00.
Moreover, two barangay halls were also completed. These are located at Brgy. Looc in Culaba town worth P1.4M and at Brgy. Lico in Naval town worth P2.9M.
According to Adongay the improvement on the monthly accomplishment are the result of close monitoring of projects and their regular conduct of coordination meeting with the contractors.