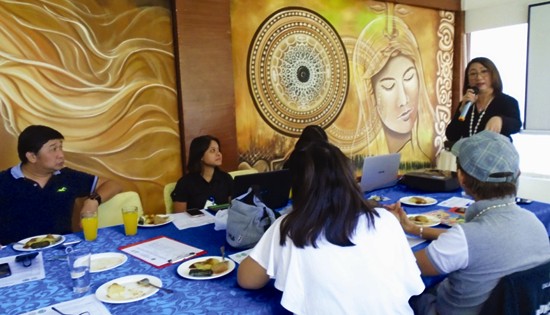 NNC-4A RNPC Carina Z. Santiago opens the technical rendezvous between CNN-4A and HIMSoG-8 by welcoming her team to Tacloban City and voicing out her expectations of the activity. Santiago once headed NNC-8.
CNN-4A wants MELLPI functions as HIMSoG-8
By JACK C. GADAINGAN
November 27, 2019
TACLOBAN CITY – To become members of their own Regional Nutrition Evaluation Team (RNET) doing Monitoring and Evaluation of Local Level Implementation Protocol (MELLPI Pro) was one of the Communicators Network for Nutrition of Region-4A members concerns to relate themselves as the members of the Harmonized Initiative for the Spread of Good Nutrition in Region 8 (HIMSoG-8), who are already active conducting MELLPI Pro region-wide as members of Region-8 RNET.
This developed during the Technical Exchange between the NNC-Calabarzon media-group partner CNN-4A and NNC-8 media-group partner HIMSoG-8 conducted on October 24, 2019 at the Leyte Park Hotel, here.
Ten CNN-4A members, guided by their Regional Nutrition Program Coordinator (RNPC) Carina Z. Santiago, visited Eastern Visayas Region, for an exchange of accomplishments and Sharing of Best Practices between the two nutrition advocate media-groups. Such technical rendezvous is second for HIMSoG-8 already, as on July 15-17 a contingent of 13 practitioners of quad-media from Region 1 who called themselves the Regional Organization of Nutrition Development Advocates of Region 1 (RONDA 1) of Ilocos Region also visited Region 8 for similar purpose, to widen the media-partner's horizon of accomplishments through exchanges of notes with the other regions' counterparts.
It was gathered that NNC-4A leadership and CNN-4A members were astounded to learn that all members of HIMSoG-8 are actually members of the Eastern Visayas RNET and/or members of nutrition evaluation teams in their respective localities. This is aside from the HIMSoG-8 leadership who is likewise sitting as member in Regional Technical Working Group (RTWG) and other nutrition bodies.
The only apprehension raised by the visiting group in regards the setup, was of "bias" coming into play should the media-group be doing evaluation of their own localities, which practically negated by the fact that MELLPI Pro is – a purely document-based evaluation, that leaves no chances for baseless-adjustments
It was learned, that Mach 6-7, 2019 36 Nutrition Stakeholders from Eastern Visayas including HIMSoG-8 members who were actively involved in the yearly conduct of Monitoring and Evaluation of Local Level Plan Implementation (MELLPI) on nutrition programs and services gathered for a two-day roll-out training on the updated monitoring and evaluation protocol on nutrition dubbed "MELLPI Pro" at the Commission on Audit (COA) Training Center, Palo, Leyte.
The MELLPI Pro replaces the traditional MELLPI, the nutrition programs implementation assessment tool for localities adopted in the 80s. The new upgraded system emphasis: a) assessment of LGUs' progress toward compliance to quality standards, b) evidence-based validation, and c) mentoring through joint discussion for learning and action discussion with LGU or nutrition worker assessed. An added feature (of MELLPI Pro) is the Performance Assessment of Nutrition Workers namely: Nutrition Action Officers, District/City Nutrition Program Coordinators and Barangay Nutrition Scholars (BNSs).
Said new protocol connoting professional, progressive, promotional, process, and profitable is for full implementation by year 2020 – with this year (2019) as the transition period. By then under MELLPI Pro all local government units (LGUs) and their corresponding lead nutrition workers nationwide shall undergo assessment and evaluation:
At the regional level, the Regional Nutrition Evaluation Team (RNET) shall visit all provinces and highly-urbanized and independent cities; at the provincial level, the Provincial Evaluation Team (PET) shall visit all municipalities and component cities; at the city and municipal level, the City/Municipal Evaluation Teams (C/MET) shall visit all barangays. Meanwhile the National Nutrition Evaluation Team (NNET) shall evaluate the National Honor Award (NHA), and the 1st and 2nd Year CROWN Maintenance Contenders.