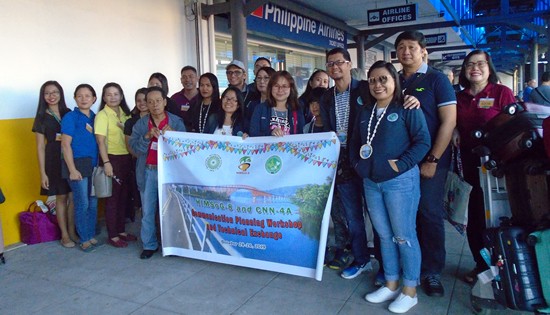 HIMSoG-8 headed by President Antonio Pueblos welcomed the officers of NNC-Calabarzon headed by RNPC Carina Z. Santiago (center) and contingent media-partner CNN-4A headed by its president Red Alano.
NNC-Calabarzon media-group partner CNN-4A visits Eastern Visayas for technical exchange with HIMSoG-8
By JACK C. GADAINGAN
November 17, 2019
TACLOBAN CITY – Carina Z. Santiago, Regional Program Coordinator of National Nutrition Council (NNC) Region-4A (Calabarzon) together with Lourdes B. Orongon and Ezra Minette B. Lasin, Nutrition Officer III and Nutrition Officer II respectively from the same region, headed a contingent of 10 practicing media from Calabarzon calling their group as the "Communicators' Network for Nutrition in Region 4-A" (CNN-4A) to a visit of Eastern Visayas Region for a Technical Exchange with NNC-8 media-group partner Harmonized Initiatives of Media for the Spread of Good Nutrition in Region 8 (HIMSoG-8) on October 24-26, 2019.
The CNN-4A was headed by its President Red C. Alano, Vice President (VP) for Print Antonio R. Antazo Jr., VP for Broadcast Emil Jun B. Delos Santos, VP for Social Media Kier Gideon Paolo Gapayao, Auditor Genielyn M. Tobias, Chairman of the Board of Directors Janet G. Buelo, and members Nanacy G. Quizon-Vidal, Maria Victoria A. Carino, Maricel Manza and Mayrenel C. Manalo.
A contingent from HIMSoG-8 likewise headed by its President Antonio C. Pueblos, VP Jacob C. Gadaingan, Broadcaster Cecelia P. Tibo, cable-TV broadcast providers Evelyn Bacol, Nelson Braga, and Mathew Manuel, and News Editor Albert Lesiguez, and two personnel from NNC-8 Novida B. Rico and Clytie Sta. Cruz welcomed the visiting party during their arrival 5AM at Tacloban City Airport.
Of common goal, as both media organizations are involved in the fight against hunger and malnutrition and in promotion of good nutrition – with CNN-4A the media-group partner of NNC-4A within its jurisdiction Calabarzon area. Meanwhile HIMSOG-8 in partner with NNC-8 for the Eastern Visayas Region. The two advocacy groups conducted their technical rendezvous after a brief breakfast at the Leyte Park Hotel, here.
The Technical Exchange consisted with presentations of each media-group's accomplishments and Sharing of Best Practices with both presidents doing the power-point presentation reporting, Pueblos for HIMSoG-8 and Alano for CNN-4A.
HIMSoG-8 Treasurer Ray Gaspay, publisher of Samar News.com and HIMSoG-8 member Sarwel M. Meniano, chief of Philippine News Agency (PNA) Region 8 joined the group for the technical exchange, and other activities.
In the afternoon, the Calabarzon group was escorted by the Eastern Visayas group to an Environmental Scanning to the Super Typhoon Yolanda Marker (Anibong Shipwreck), the Mat Weavers and Products in Basey town, the newly constructed Town Hall of Basey and Basey's Oldest Church, the 2.16 kilometers long "San Juanico Bridge" connecting Samar and Leyte Islands, and the newly upgraded MacArthur Park. The evening of the first day (Oct. 24, 2019) featured a fellowship, loaded with more bonding initiatives, exchanges of tokens, with good food and live music.
The following day NNC-4A and CNN-4A continued with their more serious tasks like "Communication Planning for CY 2020": consisting of Workshop Overview, Review of Print and Radio Placements and various IEC Material, the Philippine Plan of Action 2017-2022, Review of Calabarzon Communication Plan 2013-2015, and Actual Communication Planning Workshop.
For its last salvo, the CNN-4A gave way to its 3rd Quarter Meeting, consisting of review/approval of the highlight of the Previous Meeting, and other organizational concerns.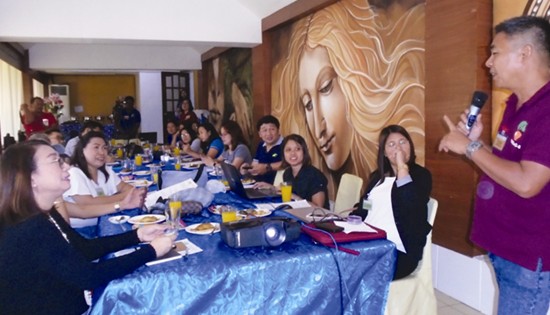 HIMSoG-8 President Antonio Pueblos makes the first presentation on the Technical Exchange with CNN-4A by presenting first the accomplishments of HIMSoG-8.