Mindanao workers hold protest against Makati-based banana firm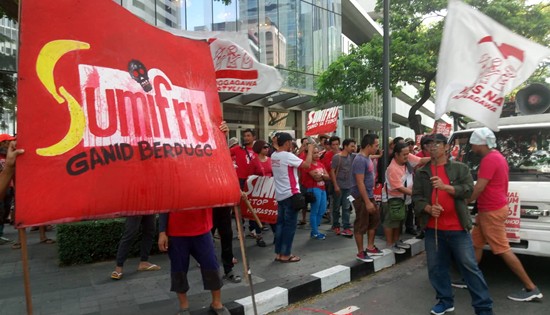 Press Release
January 18, 2019
MANILA – Over 200 workers of banana company Sumifru Phils. Corp. held a protest today in the company's main office in Makati for neglecting court's order recognizing them as regular workers.
The workers under their union Nagkahiusang Mamumuo sa Suyapa Farm (NAMASUFA) have been camping here in Manila since November last year in a bid to press the company as well as the Department of Labor and Employment to enforce the court's order, and escape the military harassments because of Martial law in Mindanao.
Paul John Dizon, NAMASUFA President, revealed that since their labor dispute erupted on October 1, 2018, one of their members was already killed, 2 escaped from slay trials, at least 20 had been mauled, their protest camps burned, belongings were looted, and their house including the union's office were burned down. The workers attributed all these atrocities to Sumifru in cahoots with the state forces and enabled through Martial Law.
"Instead of abiding by the law, they mauled, robbed, and killed! For more than a decade the company denied us our regular status and better benefits, now that the Supreme Court had already ordered last 2017, this is how they treated us!", Dizon lamented.
As a sign of protest, the workers threw paint bombs to the replica logo of Sumifru and called on Paul Cuyegkeng, the company's owner, to abide the law.
Sumifru Phils. Corp. is an agricultural company engaged in sourcing, production, shipment and marketing of various fresh fruits, primarily the export of quality Cavendish bananas, pineapple, and papaya. The company operates in more than 12,000 hectares in Mindanao.
In Compostela, Compostela Valley where the protesting workers came from, the company operates in more or less 2,200 hectares with 9 packing plants, with total production capacity of at least 19,000 boxes per day or 7 million boxes per year. The company's gross daily income is P19 million per day in Compostela operations alone.