DTI, CARD renew P3 partnership with additional P100M for MSME microfinancing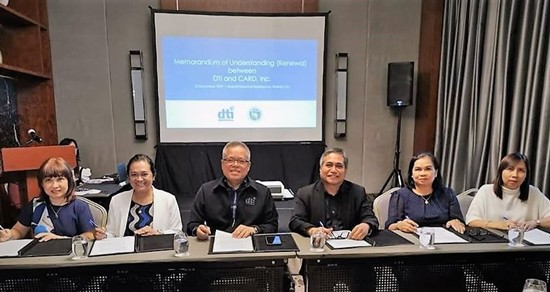 By DTI-OSEC-PRU
December 21, 2019
MAKATI – The Department of Trade and Industry (DTI) renewed its partnership with the Center for Agriculture and Rural Development (CARD), Inc., an NGO that provides microfinancing loans.
Through a Memorandum of Understanding signed last 16 December, CARD committed an additional P100 million of its funds for Pondo sa Pagbabago at Pag-asenso (P3) program. This brings CARD's total revolving fund for the P3 program since the partnership began in 2017 to P300 million pesos, which it will lend out to other beneficiaries to widen the reach of the P3 program to more micro borrowers.
P3 is DTI's program that provides low-interest, no collateral loans for existing micro, small, and medium enterprises (MSMEs). The program, managed by Small Business Corporation (SB Corp), is a response to President Rodrigo Duterte's directive to combat 5-6 loans. Through P3, entrepreneurs can borrow amounts from P5,000 to P200,000 from CARD and other accredited credit delivery partners.
Trade Secretary Ramon Lopez said that DTI benefits from the partnership since CARD supplements the P3.5 billion P3 allocation from the government with their own funds. CARD is also one of the biggest microfinance institutions in the Philippines, with 7 million borrowers nationwide.
Founder and Chairman Emeritus Dr. Jaime Aristotle Alip reported that CARD disbursed P600 million in P3 loans to around 56,000 borrowers since 2017. He also said that CARD targets to increase its P3 allocation to P100 million every year to reach 100,000 entrepreneurs.
Signing the agreement are (from L to R:) SB Corp President Luna Cacanando, DTI Undersecretary Blesila Lantayona, DTI Secretary Ramon Lopez, CARD Founder Dr. Jaime Aristotle Alip, CARD Inc President Flordeliza Sarmiento and Executive Director Jocelyn Dequito.