P20 million river wall project to protect residents in Carigara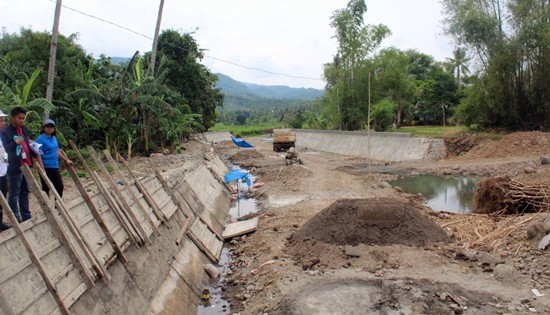 By DPWH 2nd LED
August 30, 2019
CARIGARA, Leyte – Twenty million worth of flood control structure underway in the stretch of river in Barangay Manloy. The Department of Public Works and Highways (DPWH), Leyte Second District Engineering Office, Carigara, Leyte now builds retaining wall to fasten water flow and prevent flooding in the nearby areas.
"One of the mandates of the DPWH is to build flood control structures to protect lives and properties from force majeure," said District Engineer Gerald Pacanan.
During his inspection, Pacanan urged the contractor to fast track the project implementation to avoid delays on the operations when rainy season comes.
A total length of 438 lineal meter and height of 2.5 meters will be built in Manloy river.
Manloy has a land area of 419.62 hectares of which 20% are irrigated with rice lands, as farming is the main source of livelihood of the populace.
It traverses the barangay of San Juan, Caghalo, Barayong in Carigara and Manloy in Capoocan which are known as the big rice producer in the municipality.