BilComNet conducts training-workshop on basic journalism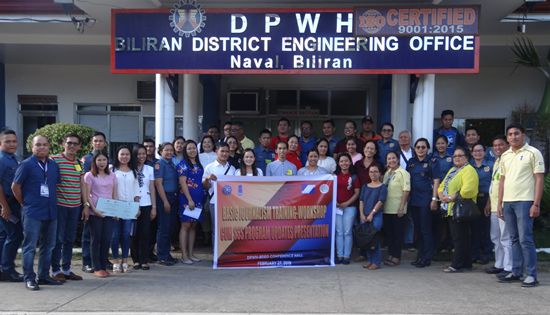 Press Release
April 2, 2019
NAVAL, Biliran – The Biliran Communicators Network (BilComNet) in coordination with the Philippine Information Agency (PIA) - Biliran Provincial Information Center conducts its first ever training-workshop on basic journalism on February 27, 2019 at the Department of Public Works and Highways (DPWH)- Biliran District Engineering Office (DEO).
About 50 BilComNet participants attended the said training eager to learn on basic journalism that will be useful in their information dissemination job.
BilComNet is composed of Information Officers (IOs) from government and private offices, media practitioners and Community Development Information Officers (CDIO) from 13 municipalities in the Province of Biliran.
According to Mr. Dionisio Oliva, BilComNet President, the purpose of the workshop is to improve one's technical capabilities.
"This workshop endeavors to give us a better tool on how we put across the message from our agencies to the people we serve," said Oliva.
"This is a good opportunity for all of us and take advantage of it and hopefully this will provide us the strength and insight personally as member of the BilComNet, professionally as information officers or the like in your agencies and with patriotism as we strive to do better in our jobs for the benefit of majority of us Biliranons," he added.
Ms. Ninfa Illuminada Quirante, PIA 8 Regional Editor and Ms. Alicia E. Nicart, PIA 8 Assistant Regional Head were invited as resource speakers for the workshop.
In the morning, Ms. Quirante gave lecture on news and feature writing and photo journalism. She briefly discussed on the elements of news, picture captioning, grammatical structure, news gathering and tips in writing a good news article.
"In writing a news article, first write all the facts, know your readers and answer all the questions which are unanswered then add facts," Quirante said.
"Make it accurate and simple," she added. After her lecture, a workshop on news writing was conducted.
Based from the submitted news articles from the participants, Quirante chooses the best "lead". The "lead" is the opening statement of the first paragraph of the news article.
Among the participants, Quirante rewarded Mr. Felix Carcellar, CDIO of Kawayan, Biliran for having the best lead. She also recognizes those participants who have submitted a good news articles. Before the morning session ends, Ms. Judith O. Precato, Junior Analyst of SSS Ormoc Branch presents their agency's programs and updates.
In the afternoon, Ms. Nicart conducted a lecture on media ethics and responsibilities. According to her, media ethics creates guidelines for journalists to follow and helps maintain a sense of equality. The lecture on media ethics draws lots of questions from the participants which make the discussion interesting.
The one-day training workshop ended with the distribution of certificates and pictorials of the participants with the resource speakers.