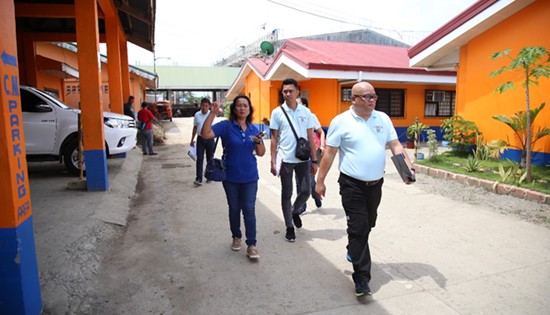 The Eco-Friendly Regional Assessors Team inspect the office grounds of DPWH Samar I last September 12, 2018.
DPWH: An eco-friendly government office
By MAE ANGELICA R. COMOTA
September 17, 2018
CALBAYOG CITY – With the recent global environmental issues and concerns such as global warming and climate change, various forms of environmental deterioration have reached a stage that require massive, orchestrated national effort.
In line with this, the Department of Public Works and Highways launches the 2018 Recognition Awards for the Most Eco-friendly District Engineering Office.
As part of this competition, DPWH -Samar First District Engineering Office (SFDEO) undergoes an assessment by the Eco-Friendly Regional Assessors Team (EFROAT) composed of representatives from the DPWH Central Office, led by Mr. Andro Santiago.
The assessment aims to review the Office's implementation of its Environmental Management Programs in terms of the following criteria: 1) Electricity Consumption; 2) Water Conservation; 3) Waste Management; 4) Greening Program; 5) Green Procurement Program; 6) Emergency Preparedness; 7) Air Pollution Prevention; and 8) Order and Cleanliness.
Under SFDEO's environmental management program, the wise utilization of office supplies and materials are religiously followed in order to avoid waste; construction materials such as asphalt containers are repurposed into plant holders; a compost pit is set up in order to contain biodegradable waste; a rainwater collection system is installed; fuel allocations are reduced; air-condition units are turned on within a specific time period; and the concept of carpooling is practice whenever there is field work.
All employees are also made aware in this campaign as their efforts and actions are critical towards achieving an eco-friendly office.
Based on the findings of the assessment conducted by the EFROAT, SFDEO is an above average, eco-friendly government office.
"After this assessment our environmental management program will not stop, we will continue to sustain and improve our current practices in order to gain more grounds in becoming a more eco-friendly office, not only for the recognition but more importantly to help in creating a better world for the next generation," said District Engineer Alvin Ignacio as he addressed all the employees of DPWH -Samar I during the exit conference with the EFDOAT.