Rotary Club of Calbayog receives special award from DepEd Calbayog
By LEVIRESA GETIGAN-BARNIZO
September 1, 2018
CALBAYOG CITY – The Rotary Club of Calbayog received a special award as one of the Outstanding Stakeholders of the Department of Education (DepEd), Schools Division of Calbayog City, yesterday, August 31, 2018 at the Calbayog Convention Center, Brgy. Capoocan, Calbayog City, Samar.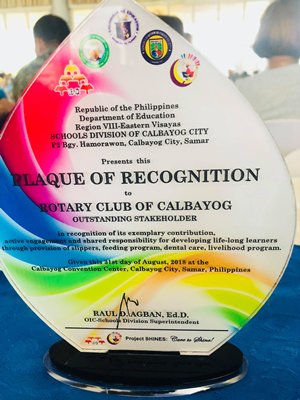 The plaque was awarded in recognition of the club's exemplary contribution, active engagement and shared responsibility for developing life-long learners through provision of slippers, feeding program, dental care, livelihood program, and provision of school supplies to Happy Valley Clustered Schools located at the far flung barangays in Calbayog and Alternative Learning System (ALS) - Calbayog Arts and Design School of Eastern Visayas (CADSEV), Brgy. Gadgaran, this city.
DepEd Calbayog encouraged all its stakeholders to continue supporting the Division Office most especially its learners that will pave way into producing graduates as a means for poverty alleviation and economic growth involving the working class, business sectors, local farmers, government and non-government owned organizations, among others.
The club qualified as a special awardee based on the monetary consideration and number of schools which availed of its significant programs and services.
The club recognizes the relentless and unwavering support of its partners including the Philippine Army, Philippine National Police, People's Outreach Program, Kalipayan-Katitirok-Kasangkayan, and Boleros Basketball Club in the successful delivery of its projects, programs and services.
Other special awardees who received the plaque of recognition are the key officials of the respective offices of the Local Government Unit of Calbayog City including City Mayor Ronaldo P. Aquino, Congressman Edgar Mary Sarmiento, Philippine National Police, 8th Infantry Division, Philippine Army, Bureau of Fire Protection, Filipino Chinese Chamber of Commerce Inc., Puno ng Buhay, DYOG-Radyo Pilipinas-Calbayog and broadcasters, etc.